The power of performance: student musicians return to the CIS stage
Photograph by
CIS Communications
After what seems like an eternity of COVID-19 restrictions, in April 2021, student musicians finally had an opportunity to perform on stage. It was during the grade 12 awards ceremony and the grade 11 DP music students who were selected to perform were:
Vocals: Ysa B
Electric bass: Max D
Keyboard: Javier M, Mengduo H and Yuhan S
Drums: Riya I
Electric guitar: Zara M and Neil V
Flute: Yibing Z
Although their performance was part of a bigger event, the student musicians were thrilled to be invited. Zara M, who performed on the electric guitar, says, "I always get this sense of euphoria whenever I play live. After not being able to do so for so long, I felt so new and refreshed — almost as if I was performing live for the first time again."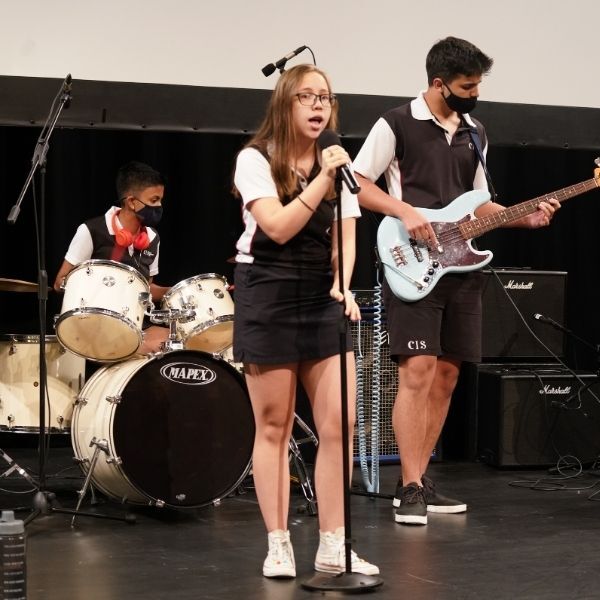 "The live performance was an important occasion for our student performers," says secondary music teacher Ann Zellhoefer. "They had been restricted from rehearsing and performing as an ensemble for one and a half years. It felt like a celebration of an important piece of their lives they had been missing. There was a feeling of excitement and renewed energy between the student performers and audience. Performing, sharing and enjoying music with others is indeed powerful!"

The group chose to play "I wish" by Stevie Wonder, from his 1976 album "Songs in the Key of Life". The funk pop tune got everyone in the David Foster Theatre in a celebratory mood at the event, which honoured the academic achievements of the 2021 CIS senior cohort.
"Since the song we performed was incredibly cheerful and celebratory, it was capable of communicating the joyful nature of the occasion," electric bassist Max D says. "We are incredibly honoured to have the organisers include us in the awards ceremony where we could perform and lighten the mood!"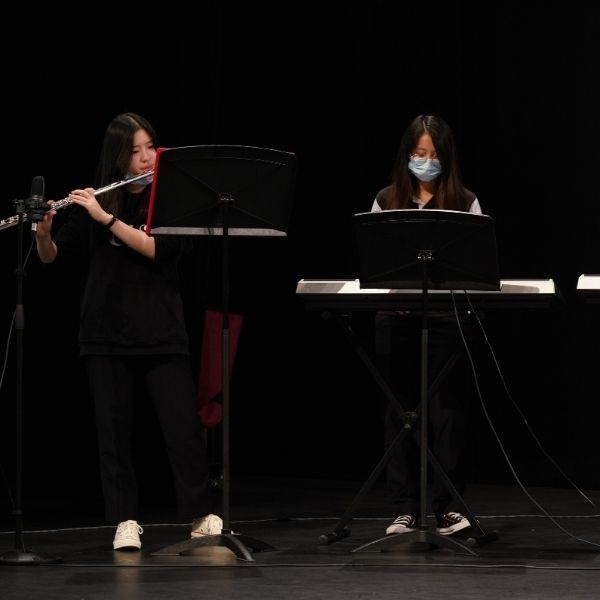 "Music is extremely powerful and emotive in nature" agrees Zara. "It has the ability to bring people together no matter who they are or what the occasion may be. In this case, it brought our seniors together on their last day at CIS. Together they could celebrate their achievements, which is incredibly important considering the stress and workload they have sustained throughout the DP."

Want to relive their incredible performance? You can watch the live recording of the award ceremony.