Huskies' indomitable season 2 fighting spirit
By
Mick Cooper, Athletics Director
Photograph by
Mick Cooper
Coronavirus resulted in the cancellation of sports' seasons at school across Singapore in March. This meant that we had to conclude season 2 for as many teams as possible. However, our athletes have displayed an indomitable Husky spirit that saw them rise above the many challenges and score a couple of victories before the circuit breaker was implemented. Mick Copper, Athletic Director, shares more with us.
A silver lining
Even so, some final positioning was still possible for some teams. Our 19U touch rugby girls, for instance, finished runners-up with their only defeat on a rain-soaked Lakeside field in December. Our boys' tennis had some rained-out games, but managed to score a third time lucky win against strong opponents ACSI (Anglo-Chinese School Independent) in one of the last games of the season. It was a thrilling match on the tennis court, to say the least. The boys took home the championship trophy and will be promoted to Division 1 next year.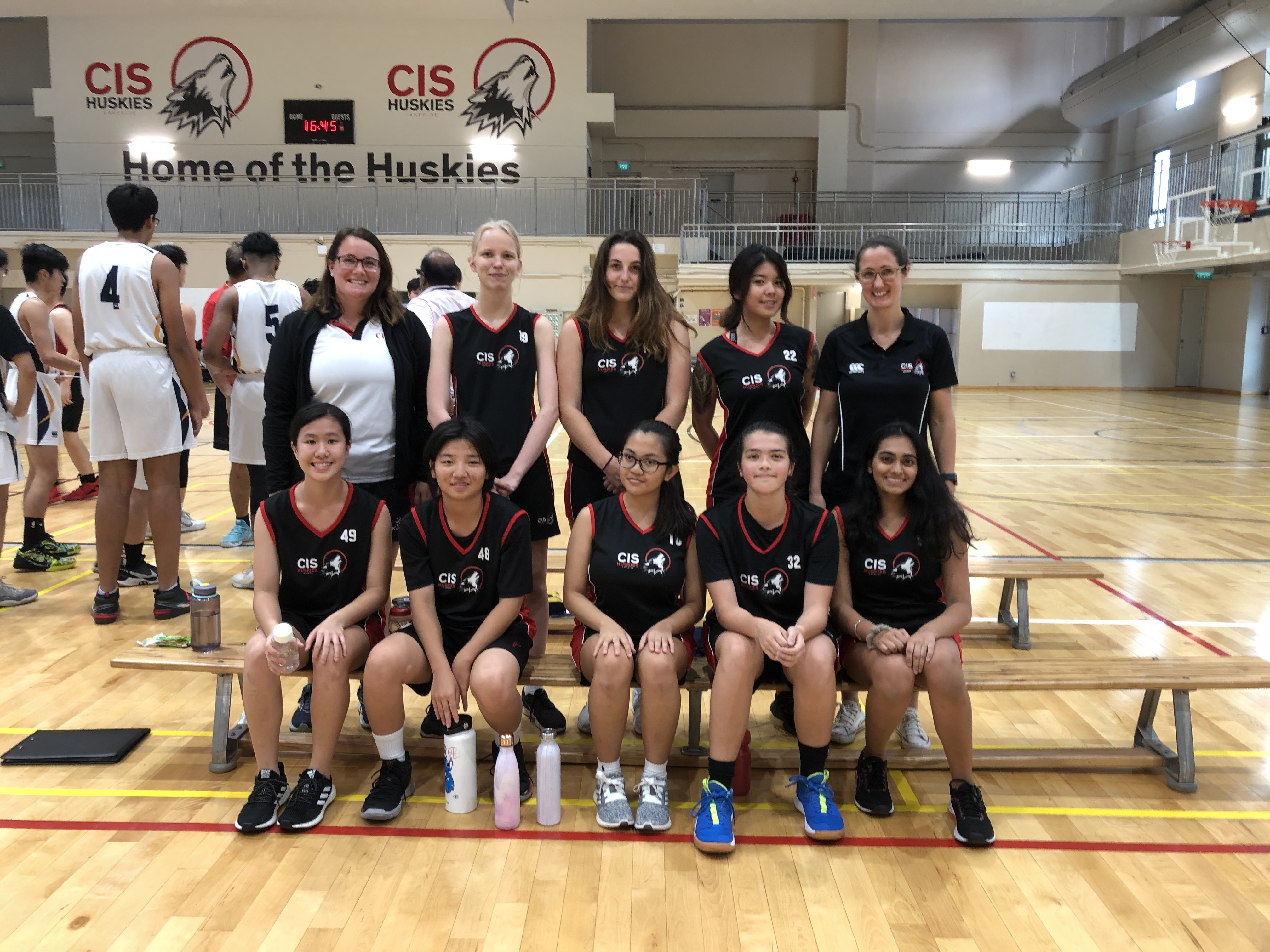 A busy season
It was a busy basketball season though all teams didn't get to complete their season's fixtures. Basketball is very popular at CIS and we fielded 11 teams this season in the 12, 16 and 19U divisions.
We hosted five double header evenings with 4 teams playing side by side at the same time, which was fabulous to watch or experience on the court. The younger age groups for football also had a busy season with lots of mini festivals, goals, saves and action. This format allowed many students to be involved and was an absolute delight to watch.
Rugby, volleyball, netball teams had productive and enjoyable seasons too, though these sports also suffered the most with incomplete seasons. It was a season that started really well but spluttered to a close due to the unfortunate external conditions.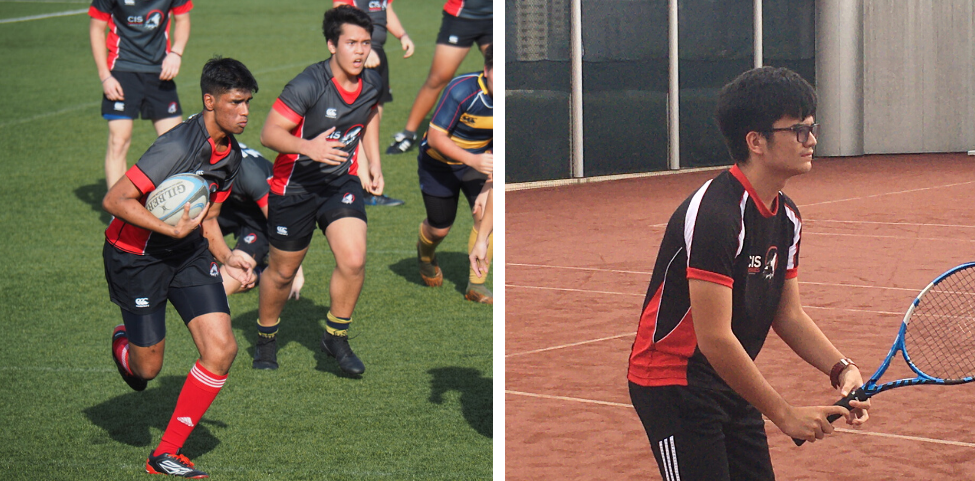 A reflection
As we look back now with season 3 cancelled, we are thankful for the practices and games we managed to play in this complicated situation. A big thank you to all the coaches and athletes for their hard work, sweat and excellence out there in challenging times. We will certainly remember it!
Congratulations
Since we won't be able to celebrate the successes of season 2, join me in congratulating the following students for being outstanding athletes as nominated by their respective coaches. Well done, everyone!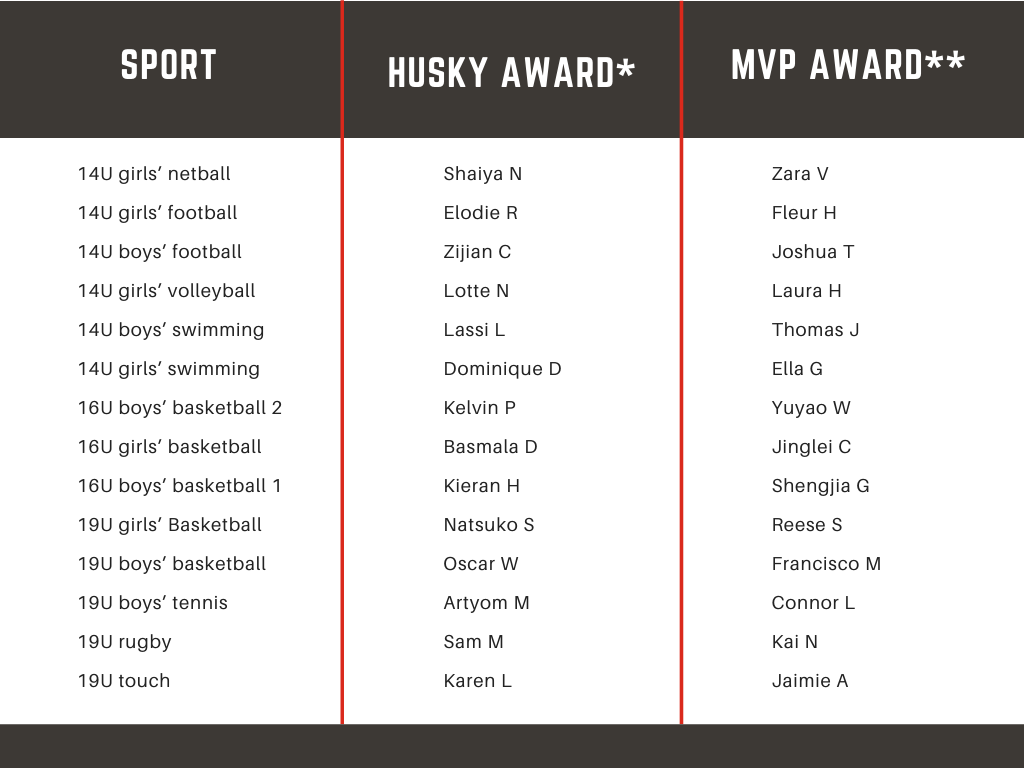 Go Huskies!

*Husky award
This player is a committed and positive member of the team who has demonstrated an aspiration to learn and work with both the coach and the team. This player is dedicated to improving their skills, knowledge and understanding and is a pleasure to coach.
**MVP (most valuable player) award
This athlete has been deemed the individual that both coaches and teammates can count on in those key moments in the game or practice. She/he is a player that strives to improve their skill and raises the level of competition.