Robotics, innovative solutions and design thinking
By
Digital literacy team Tim Studlo and Judy Kay with STEAM makerspace teacher Ben Cooperman
Photograph by
CIS Communications
First LEGO League (FLL) Singapore is an annual robotics challenge that CIS has proudly hosted for the past five years. It has grown from year to year, with upwards of 200 teams from around Singapore and across the region competing. There are two components to the FLL; students build a robot to compete in a series of robotic challenges, then they deliver a presentation to a panel of judges based on a theme.
Going virtual in 2021
The theme for this year is "Replay", which had students focusing on the world of sports, play and fitness. They explored activities that we can do in different spaces for play and how we can ensure that our games and activities are fun and accessible for everyone.
Unfortunately due to COVID-19 restrictions this year, students could only participate in a virtual version of the event. This presented a unique set of challenges and opportunities for our TK grade 6 and secondary school participants.
Four teams comprising grade 6s from TK participated in the FLL competition and they each developed a unique solution to answer the question: "how and where can we help people to be more active?"
Utilising design thinking
For the robotics portion of the event, students built and programmed a LEGO® EV3 robot to complete 14 challenges. This involved complex coding and problem solving, and aligns with the sort of design thinking that we emphasise in our STEAM programme here at CIS. Students also created a presentation where they shared their innovative ideas on how to transform and explore future places of play and exercise.
For example, one group discovered that one can view cycling routes in Google Maps but this feature is not available in Singapore so they decided to find out how they could get it included. They also came up with a proposal to write to the relevant Singapore government ministries to make the data available and ultimately add cycling routes to Singapore's version of Google Maps.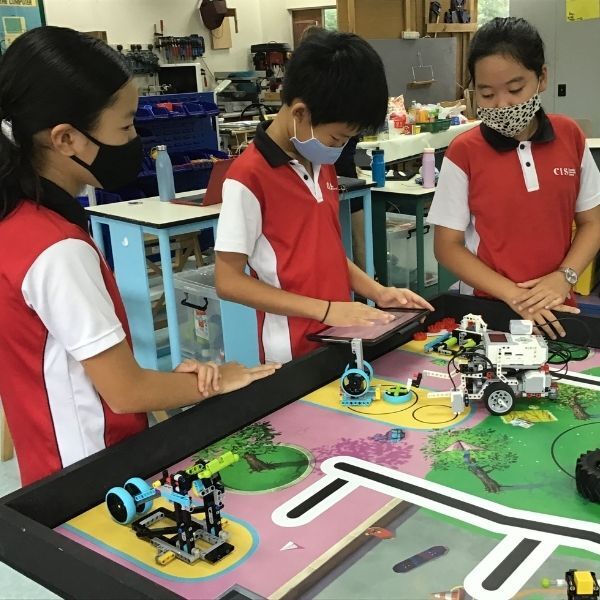 TK self-starters demonstrate core values
Students showed a great deal of independence and initiative as they prepared for this event. For more than two months, they worked hard on their challenge during recesses and lunchtimes. The grade 6s demonstrated exceptional commitment and teamwork as they learned from one another and capitalised on their strengths as a team.
Special congratulations goes out to Team G.E.N.K. who won fourth place for their demonstration of the Core Values of the FIRST® LEGO® League Challenge. These core values are: discover, innovation, impact, inclusion, teamwork and fun. Well done Team G.E.N.K. and to all of the students who took part.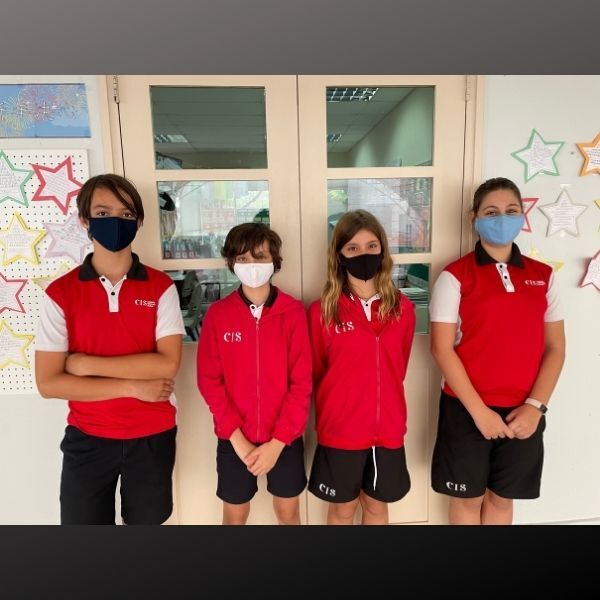 Meanwhile, at Lakeside...
The returning secondary school team (Team Forsaken) only had a month to prepare for the tournament in late March. Undaunted, the team (consisting of Alexey K, Luka R, Kevin Z and Hason J) assembled their robot under the guidance of Digital Literacy Coach Tim Studlo. Despite the small window of preparation time, they were well prepared for the part of the competition where they had to run specific missions using the robot they built. The final result: they scored 150 points in their final run. A good showing indeed!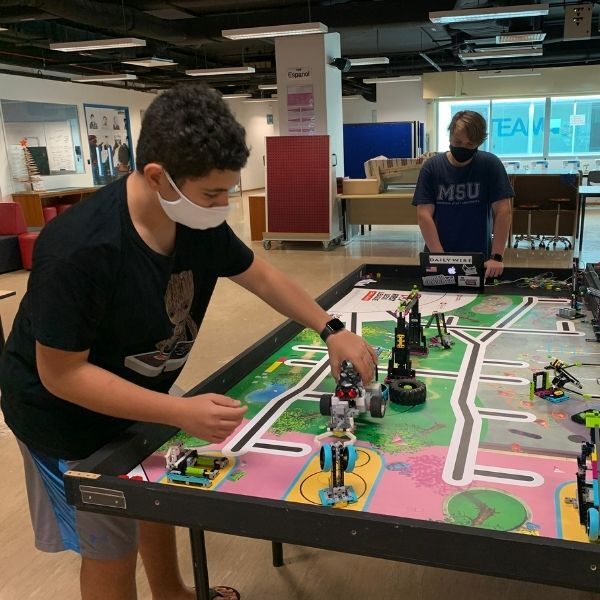 Reinventing school spaces
In the presentation component of the tournament, the team had to present the FLL judges with a unique way of getting people active in the CIS community. This was done over a Zoom call. Team Forsaken noticed that CIS students tend to spend quite a lot of time indoors due to the safety restrictions and partly due to space constraints at CIS. The team came up with a solution to convert the school rooftop spaces into friendly meeting places so students are more inspired to go outdoors more often during morning breaks and SMART time. They were also required to pitch their idea to someone in the community so they asked CIS sustainability lead Blake Richardson to hear them out.
Blake says, "I enjoyed their presentation. The students' delivery was smooth, well organised and they used visuals well to illustrate their key points. There are certainly some exciting possibilities for better utilisation of the rooftop space and I think it would be great to explore these further".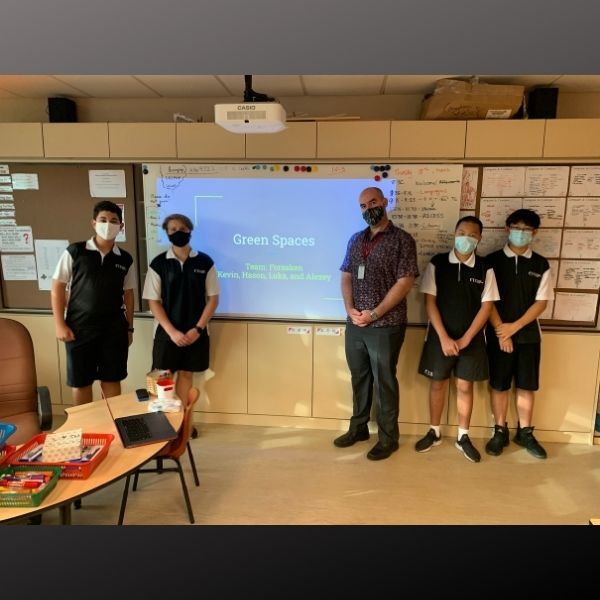 While this year's FLL season was short due to safety restrictions, the students and coaches managed to make the most of their time together. The TK and secondary teams definitely look forward to next season's tournament and new recruits!