NUS music student and CIS alumnus, Evan Y, returns to CIS as an intern teacher
Photograph by
CIS Communications
Stepping onto campus three years after graduating felt both familiar and strange to Evan — all at the same time. "Hallways and classrooms look the same; there's the nostalgic aroma of the canteen, and of course there are the familiar faces of teachers. But my friends have long departed and can no longer be found in the DFT (theatre) where we spent hours rehearsing and performing. And perhaps the strangest aspect of my return, I now get to call Mr Anderson — Tom. It feels odd, to say the least, to have come back to my high school as an intern music teacher."

Studying at Yong Siew Toh Conservatory of music at NUS, Evan, who was at CIS from 2012 to 2019, is undertaking two academic years of performance study followed by two years of production study. So far, he's enjoyed participating in performances at a variety of venues including Singapore's Esplanade.
Conservatory students are encouraged to create their own outreach projects, and in February Evan returned to CIS to work with MYP and DP music students. "As someone who grew up in CIS, I'm accustomed to the school culture which lets me head into the practical aspect of the internship much quicker, as it removes the need to adapt to a brand new environment. I also believe that CIS is a strong educational institute that can offer great teaching experience."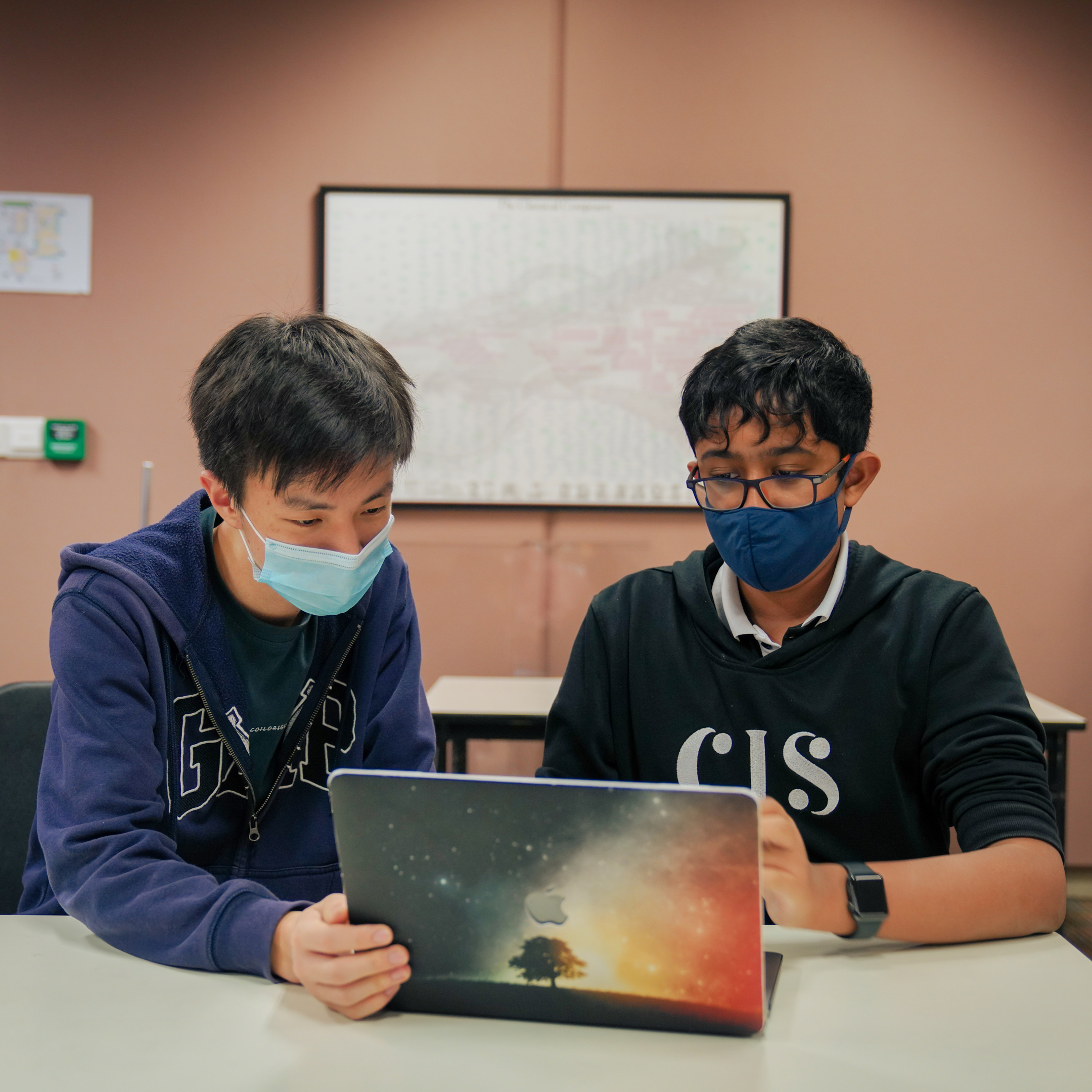 Evan Y (left) with a CIS music student.
In 2012, Evan joined the TK community before moving to Lakeside for secondary school. Despite being an enthusiastic DP music student, he admits that music wasn't always his number one passion. "I believe CIS's music teachers are the primary reason I decided to pursue music at university. As someone who despised music in primary school, my love for music grew at school and I was hugely influenced by my teachers' commitment and love for their discipline."
It's no surprise then that Evan, a keen musician, identified the DFT as his favourite spot on campus. He looks back on his performance in a small pit orchestra to accompany the school's Seussical and Shrek musical productions as his best memories of school.
Now interning twice a week, Evan enjoys supporting Mr Anderson and Ms Zellhoefer in the classroom, and working with BML (bilingual and multilingual learners) students to aid their understanding on certain topics discussed in class as well as consulting with students who request help. He even returned to the familiar DFT stage to perform "Fantasy on Themes from La Traviata" during the recent grade 11 DP music recitals.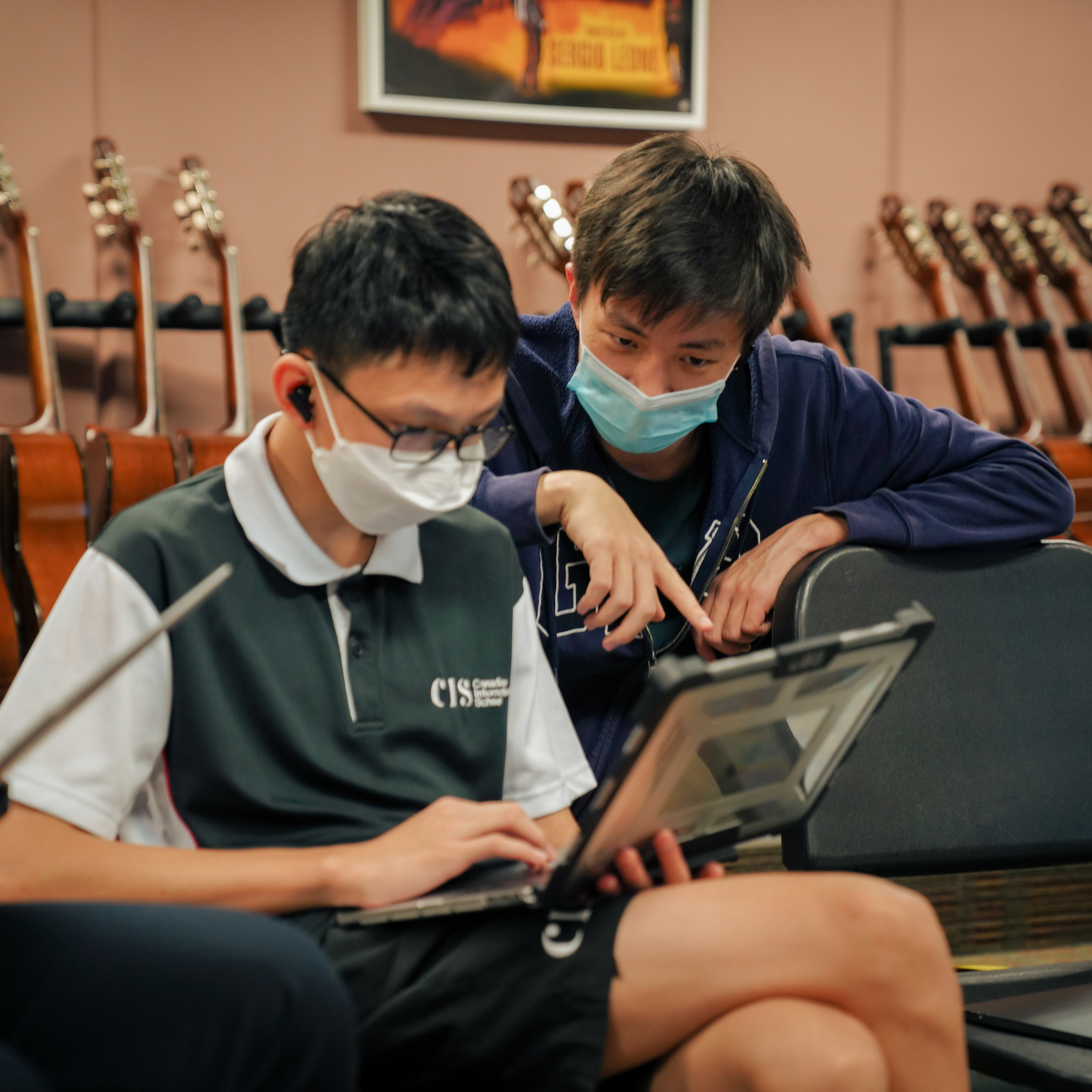 Evan guiding a student in music class.
When asked what's after his internship and YST, Evan (who credits CIS for helping to define his aspirations) says he wants to become a DP music teacher. "I think it's a privilege to be able to guide and assist students through their most important times as young adults. High school is a time of learning and decision making: deciding on a university, a major, and trying to define what passions and interests to pursue. It would be an honour to be an integral part of a student's journey towards their greater life goals. "After all, I'm grateful to my own high school teachers. I can't imagine ever pursuing music without the encouragement and influence of CIS' open-minded culture and passionate faculty."