Mother tongue languages at CIS: one community, many voices
Photograph by
CIS Communications
How can mother tongues bring a community closer together? According to Lakeside primary vice principal Tonia Whyte Potter-Mal, it must first come from a place of passion. And in her case, that's the promotion of native languages.
"I've been fascinated by different cultures and how they help us learn about one another," she says. "The Mother Tongue Week that Lakeside primary celebrated in February was such a wonderful way for our students to learn about other cultures so I've been wondering how we can take it further."
"I didn't just want to focus on different mother tongue languages, I wanted to highlight the faces behind the different languages and dialects spoken at CIS and that's where my idea to involve our support staff came about," explains Tonia with a smile.
And so, the Mother Tongue Voices initiative was born.
Getting to know the faces behind the mother tongues
Now that she had decided to highlight the faces behind the various languages, Tonia began approaching the different support teams for volunteers who would read a book in their native language to a virtual audience of Lakeside primary students. She secured four support staff who proudly volunteered to share their culture with our primary classes via Zoom readings:
Shabnam Younos from facilities: reading in Bahasa Melayu
Michael Joseph from security: reading in Tamil
Chef Naveen from Sodexo: reading in Hindi
Ken Yeoh from facilities: reading in Cantonese
Appreciating the storyteller behind the voice
Getting the volunteers was the easy part, now Tonia had to coordinate with the Lakeside primary library team to get the virtual storytelling sessions set up. Tonia says, "Elaine Fong, our primary school librarian, played an instrumental role in supporting this process and I am so grateful."
The first storyteller? Michael Joseph from the CIS security team, who read the book "The Snake and the Frogs" in Tamil.
Tonia tells us, "it was amazing to see him in action. He read to 30 classes via livestream. Michael was so expressive and visibly proud of this special time to connect with the school community. The students and staff seemed equally delighted."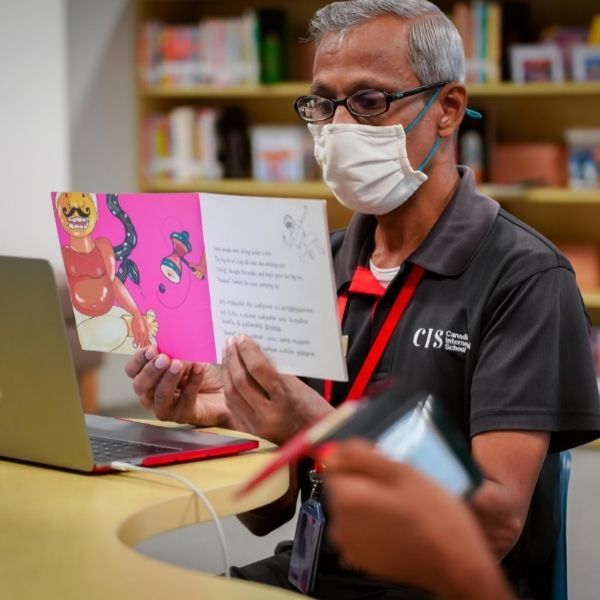 Grade 6 lead, Ryan Sayer agreed: "My class recognised Michael on their way to PE class later in the afternoon and they immediately waved happily to say hello and thank you to him. Even the entire grade 6 level, who was in the middle of preparing for the PYP exhibition, took the time to tune in for the storytelling session."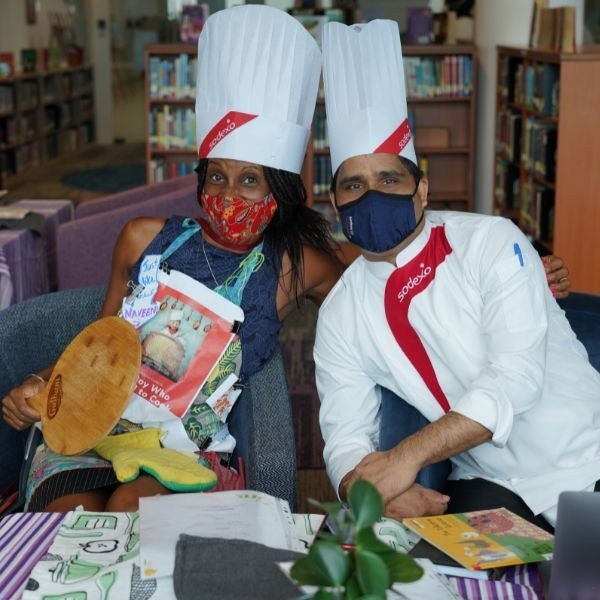 Chef Naveen from the Sodexo team also enjoyed a brief celebrity moment when his entire family in India dialed in to show their support during his Hindi storytelling session. The facilities team also set up a large screen in the cafeteria so Naveen's colleagues could see him reading via Zoom to the 30 primary classes.
Going one step further
Our facilities coordinator Shabnam not only stepped up to read a book in Bahasa Melayu, she also offered to translate a children's picture book from her native language into English. She says, "since we are an international school where everyone is from a different background, I thought that it will be nice to do this so both students and staff members can learn more about my culture and language. "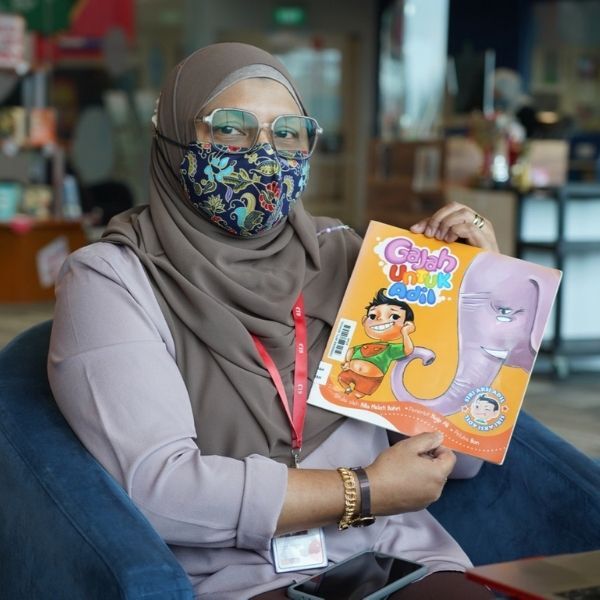 Bringing onboard more participants
The initiative will go even further in its next phase. "The storytelling sessions are just one of several layers of the BML (Bilingual and Multilingual Learners) project," says Tonia. "Since I wanted to celebrate and raise the profile of different mother tongues, I looked at how we could involve our support staff more actively."
To do that, she secured the participation of the grade 2 student council to brainstorm. "We had a chat about what gratitude actually means," Tonia tells us, "I wanted them to understand the purpose and its importance because I wanted them to take ownership of the project. If they believe in it, it will eventually come to a point where they can take the lead without my active involvement. I am so pleased to already witness this increased sense of leadership and learner agency unfolding before my eyes!"
Really getting to know the CIS community
After putting much thought into it, the grade 2s (Emil H, David G, Yukino U, Sophia R, Sofea F, Joy S, Bella L, Elize G, Raina D, Maylinh D) decided to create a "Book of Gratitude", a picture book featuring the stories of different support staff around CIS. The enterprising students are writing and drawing it from scratch. First step: coming up with interesting questions to ask their interviewees.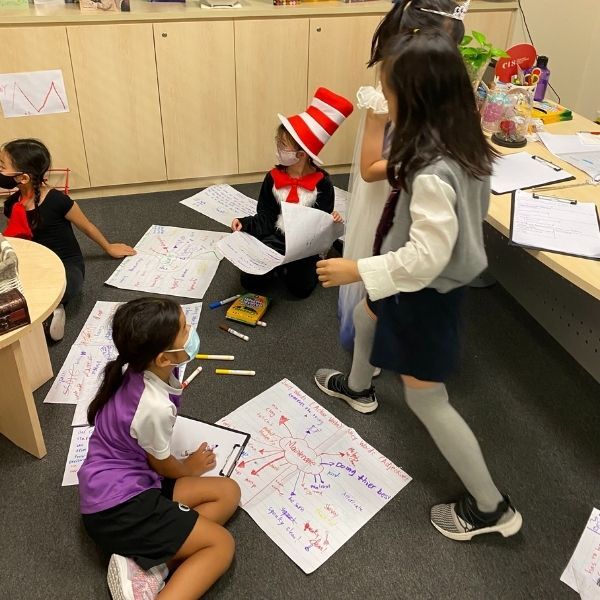 Grade 2 student Sophie says, "I enjoy meeting different people and getting to know what they do at CIS. I think we should highlight the support staff so our students will learn to be more helpful to them, just like how the support staff have been helpful to us!"
Elize, her fellow student council member agrees. She tells us, "support staff are important because if we don't have them at CIS, we will have a hard time."
Yukino chips in, "we also learn new things! For example, I thought that the Sodexo team only has chefs. Now I know that there are other roles like cashiers."
The support staff who got interviewed appreciated the grade 2s' efforts as well. One of them was Afizah Ahmad, CIS head nurse. "It's wonderful to see them spending time understanding what we do in the clinic," she says. "Although it was a short interview, it gave us such a sense of appreciation!"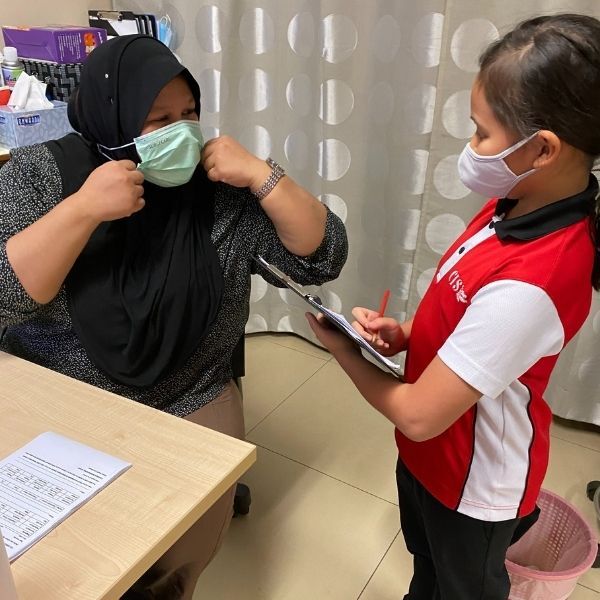 Showing gratitude in different languages
Since the "Book of Gratitude" is born from the desire to highlight the different mother tongue languages at CIS, Tonia has plans for it to be translated into different languages — engaging the CIS community once again.
She is collaborating with Melissa Sit, the CAS (Creativity, Activity, Service) coordinator about working with some students to translate the book into a variety of languages. The following grade 11s volunteered to translate into their mother tongue:
Akito O: Japanese
Yuvan G: Hindi
Nikita G: Russian
Lorenzo P: Italian
Abigail Karni: French/Hebrew
Anushri K: Tamil
Sounds exciting, Tonia! We can't wait to see the completed book and its translations. As Dianna Hardy, best-selling author, puts it in her book "Return of the Wolf": It only takes one voice, at the right pitch, to start an avalanche. We are sure Tonia's Mother Tongue Voices project will bring the school community closer together and help them better appreciate the different mother tongues at CIS. Great job, everyone!
Disclaimer: Photographs taken prior to 7 May before revised SafeManagement measures were announced.