Community & Service
9 Apr 2021
Mother tongue: a vital part of our cultural identity
Photograph by
CIS Communications
As the world continues to become increasingly globalised, the number of children learning in English (vs their mother tongue) has increased exponentially. But this doesn't mean that a child's mother tongue should take a backseat. In fact, mother tongue development has become more important than ever because of its important role in a child's overall development. In fact, research has shown that a strong foundation in their mother tongue is crucial in a child's overall development.
With such a positive light on mother tongues, it's no wonder our parents were eager to volunteer as storytellers during Lakeside primary's Mother Tongue Week. We chatted with three parents to find out why they think it's important to share their native language with the CIS community.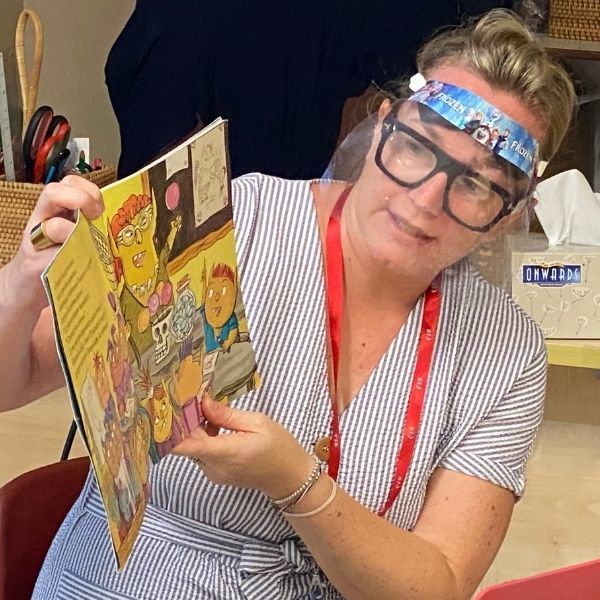 For the French speakers
Nadine L read "Leon le petit ogre qui posait des questions (les belles histoires)" by Jean-Pierre Courivaud.
What was your reason for choosing this book?
I chose this book because it had an unusual topic with great illustrations, so even the students who couldn't understand French would still be captivated and keen to listen to me. The story takes place in an ogre school where a teacher had brought in a little boy in a cage. Leon, who is a curious little ogre, tried to ask the boy some questions during recess. The latter agreed on one condition: Leon had to help him escape first.
Tell us why you think it's important to read in your mother tongue?
My daughter's mother tongue is English but mine is French. I think it's important to pass on my native language because it's a great asset to master a second language. My side of the family doesn't speak English so it's definitely a good idea for my daughter to learn my mother tongue!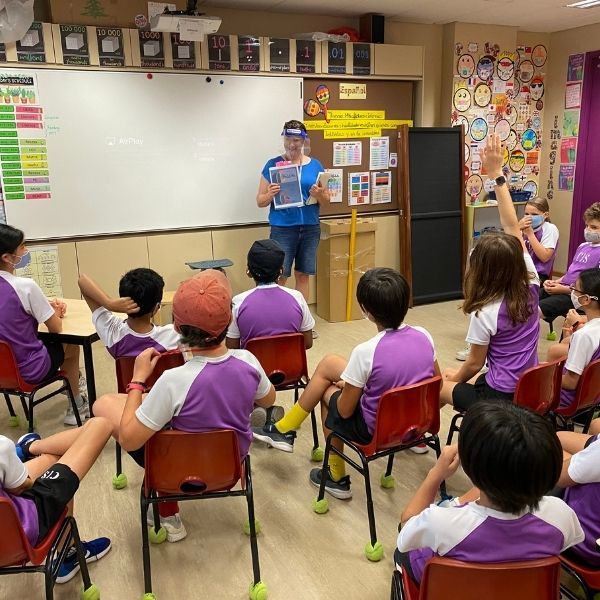 Sharing her skills in Portuguese
Nele C chose to read "O Livro das Línguas: The book about languages" by Ruth Rocha and Otávio Roth
Why did you choose to read in Portuguese?
I originally planned to read a book in Dutch but another mother in my son's class had offered the same, so I decided to read another book in Portuguese (one of the languages I studied in university) instead. I chose this book because I wanted to introduce the students to the history of languages and more importantly, how different languages are connected. I hope i was able to inspire the students to pick up a new language or approach the additional language they are currently learning at school with more confidence!
Tell us why you think it's so important to share languages?
I think it's important for our students to know their mother tongue because it's typically the language their parents have been using to express themselves from the day they were born. The mother tongue allows a certain depth of expression that a second language doesn't allow unless it's mastered to a near-native degree. I believe that this depth of expression is essential to children's social and emotional development. Learning the mother tongue also means that our kids can communicate with their friends and family with ease whenever they visit them in the native country. This creates a sense of belonging even if our kids don't live there.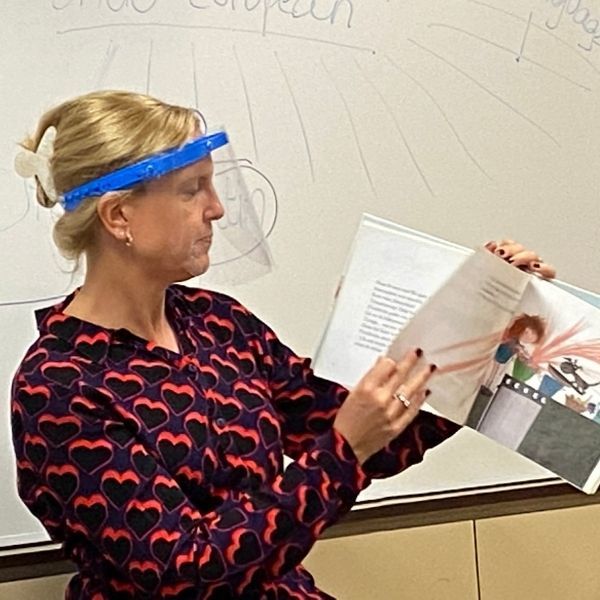 Going Dutch
Marjolein B read "Floddertje" by Annie M.G. Schmidt
Tell us about the book you read to the class?
I chose to read from the book "Floddertje" by Annie M. G. Schmidt because the stories are timeless. Even though the book was written in 1973, children can still very well relate to Floddertje and her little dog Smeerkees. The names "Floddertje" and "Smeerkees" refer to getting dirty and this is exactly what happens to them all the time, despite their efforts to keep clean. My generation grew up with the books by Annie M. G. Schmidt and the books are nowadays still popular among Dutch children. The many pictures in the book are self-explanatory, so I thought it would be helpful for the children who don't speak Dutch to understand the story better.
---
Storytelling around the world Want some other book suggestions in a variety of languages? Here are some ideas from other parents:
Book title: Story of Nelson Mandela
Original title: Suid Afrikaanse helde en ikone
Author: Wendy Maartens
Language: Afrikaans
Parent: Anita F
---
Book title: التاجر و امرأته و اللص
Original title: The merchant and his wife and the thief (Panchatantra tales)
Author: Vishnu Sharma
Language: Arabic
Parent: Imane F
---
Book title: Panchatantra
Author: Vishnu Sharma
Language: Hindi
Parent: Anuj S and Dr Hemlata D
---
Book title: I'm So Scared
Original title: 我好害怕
Author: Cornelia Maude Spelman
Language: Chinese
Parent: Kiah Ling Q
---
Book title: A Happy Excursion
Original title: 北冥有鱼
Author: Liu Chang
Language: Chinese
Parent: Lina Z
---
Book title: A Lie / 说谎
Original title: うそ
Author: Hirotaka Nakagawa
Language: Chinese
Parent: Kiah Ling Q
---
Book title: Plons!
Author: Fanie Viljoen
Language: Dutch
Parent: Sita D
---
Book title: Giulio, the rabbit in the snow
Original title: Giulio Coniglio sulla neve
Author: Nicoletta Costa
Language: Italian
Parent: Erika S
---
Book title: lI pianeta Accazeta
Author: Giunti Editore
Language: Italian
Parent: Teresa P
---
Book title: Tempura ghost
Original title: おばけのてんぷら
Author: Keiko Sena
Language: Japanese
Parent: Izumi N
---
Book title: The red ogre who cried
Original title: Naita Aka Oni
Author: Naita Aka Oni
Language: Japanese
Parent: Mamiko O
---
Book title: Harry, the dirty dog
Original title: どろんこハリー
Author: Eugene Zion
Language: Japanese
Parent: Kaori H
---
Book title: The rainbow fish
Original title: 무지개 물고기
Author: Marcus Pfister
Language: Korean
Parent: Donghui K
---
Book title: The honest-to-goodness truth
Original title: 本当の事を言ってもいいの
Author: Patricia McKissack
Language: Japanese
Parent: Mari K
---
Book title: Poupelle of chimney town
Original title: えんとつ町のプペル
Author: Patricia Akihiro Nishino
Language: Japanese
Parent: Hiromi H
---
Book title: Mere dost (grade 2 textbook)
Author: National Committee of Education (NCE)
Language: Urdu
Parent: Sanober S
---
Book title: Spider and Bee
Original title: Makara and Makhi
Author: Sir MohammadIqbal
Language: Urdu
Parent: Kinza Q
---