How to prepare for the IB DP programme - a student's take
By
Pratham Ranjan and Max Naylor, grade 11
Photograph by
CIS Communications
The IB DP is one of, if not the most academically rigorous programme in the world. The IB offers a variety of subjects that are beneficial in different ways. A lot of subjects require different skills, depending on the type of subject. For the purpose of this article, here are 5 tips we have gleaned from our personal experiences in calculation-based subjects such as math, physics, chemistry and economics (both standard level - SL and higher level - HL).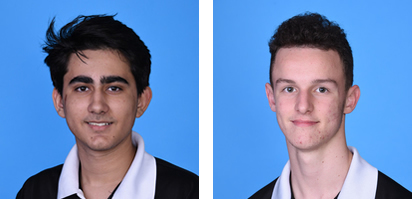 Pratham and Max

Firstly, we cannot express how important it is for you to focus on the basics. Your teachers all assign you homework for a reason, and some of you may think that the questions they give you from textbooks are a waste of your time because they are redundant. I used to think the same. But doing these textbook exercises is the best way to try out different methods, rules and apply different principles in order to gain experience in answering Past Exam Questions. So make sure you always keep on top of the textbook questions, and if you feel like you need more help; ask your teacher! With these four subjects in particular, there is never a shortage of practice questions.
Secondly, remember that PEQs are the best way to apply your skills. PEQs are questions taken from past IB exams. These questions are the real deal, and they are one of the most useful resources that an IB student can get. Your teacher has access to a plethora of PEQs, and they will often give them to you once your basics are sufficiently developed. Make sure to neatly organise these questions and label the ones you got wrong because if you make a mistake once, you may want to redo similar types of questions to better develop your ability to answer them correctly in future.
Thirdly, timing yourself is imperative. In an HL physics exam paper 1, you approximately have 1 minute for 1 mark while for HL math you have around 1.2 minutes per mark. Speed is an important requirement to be successful in all these subjects. You always want to finish before time's up to check your answers too!
Fourthly, make the most of your Graphing Display Calculator (GDC). Your calculator is an extremely powerful piece of technology. In MYP, you only scratch the surface of what your calculator can do. That's why, when you enter the DP, it is very helpful that you brush up on your calculator skills. All these subjects have at least one paper where your calculator is needed so don't attempt to answer the questions manually or in your head, make sure you use your calculator.
Lastly, method marks. Method marks are one of the best things about these subjects. In fact, in my math class you'll often hear us asking our teacher about the steps that give method marks and those that don't. The questions that you get on tests for these subjects are extremely difficult. For example in a math 6 mark question, you only get 2 marks of the correct answer. If your working and thinking are correct, you are often able to secure valuable method marks even if you get the answer wrong. Furthermore, it is also important to show as many steps as required, no more and no less, because like I mentioned before; time is not on your side during these tests.