From CIS student to national footballer: Kyra's story
Photograph by
CIS Communications
Did you know that grade 9's Kyra T is a national football player? She was offered the coveted spot in the Singapore National U16 Girls' football team in 2019 and has been living her football dream ever since. We speak with this passionate young athlete to find out what it takes to be part of the national team and how she persevered despite having to juggle school commitments and football practice.
Kyra's national football coach, Chris Au, is equally excited to have her on the national team. She said, "Kyra is the kind of player every coach would hope to have – she is motivated, disciplined and accountable. I am looking forward to the great things she can achieve in the future. Watch out for her!"
Hi Kyra, how do you feel about getting into the national team?
I was so excited to be selected for the National U16 Girls' football team. I was really nervous when I first tried out for the team but I'm happy that I managed to get in. I was actually hoping to be selected for the U14 squad, so it was a nice surprise when I was asked to join the U16 team. I have been training with the U16 squad ever since and I really enjoy the training sessions as well as appreciate all the friends I have made along with the coaches and teammates.
When and how did you start to practise football?
As a family, we always used to kick a ball around the park. My dad loved football and was the one who got me started playing when I was five years old. When I was very young, I always played with the boys from U8 to U14 – my dad runs a soccer academy called ESPZEN and there is only a boys' team. I really developed my passion for the game and never wanted to stop playing. I also join the CIS Huskies Girls team every year with all my friends and we have so much fun. I have learned how to communicate better with my friends during training and matches.
What inspired you to join the national team?
Football has always been a passion of mine. I had always been in a team with the boys (as there was only a boys' team at that time) – but I wanted to start playing with the girls as I felt more comfortable so my dad told me to try out for the Singapore national team – and that's what I did.
How did you get into the national team? What was the process like?
There was an announcement on the Football Association of Singapore website saying that there would be tryouts for the U14 and U16 national team girls squad. My parents signed me up to try out for the U14 team and I ended up joining the U16 team – I'm not sure what happened but I'm guessing they saw potential in me and wanted me to play a level up! At the time, during the first tryout, there were many different coaches for the different age groups. I had the opportunity to work with Coach Chris at the beginning of 2020 a few months after I joined and she is still my coach now. She helped me put together my individual development plan, which was a self-discovery exercise to review my strengths and areas of development. She has helped me a lot with my technical and physical skills and I've improved so much as a player.
How is the practice schedule with the national team and how do you juggle it with your studies?
The practice schedule with the national team is three times a week so after football, I go home to shower, eat and then do my homework. I can manage my time, but sometimes my homework takes longer than expected and I have to do some late-night studying. Education comes first, so I will need to keep some days free and set up a schedule as to when to study and do my homework.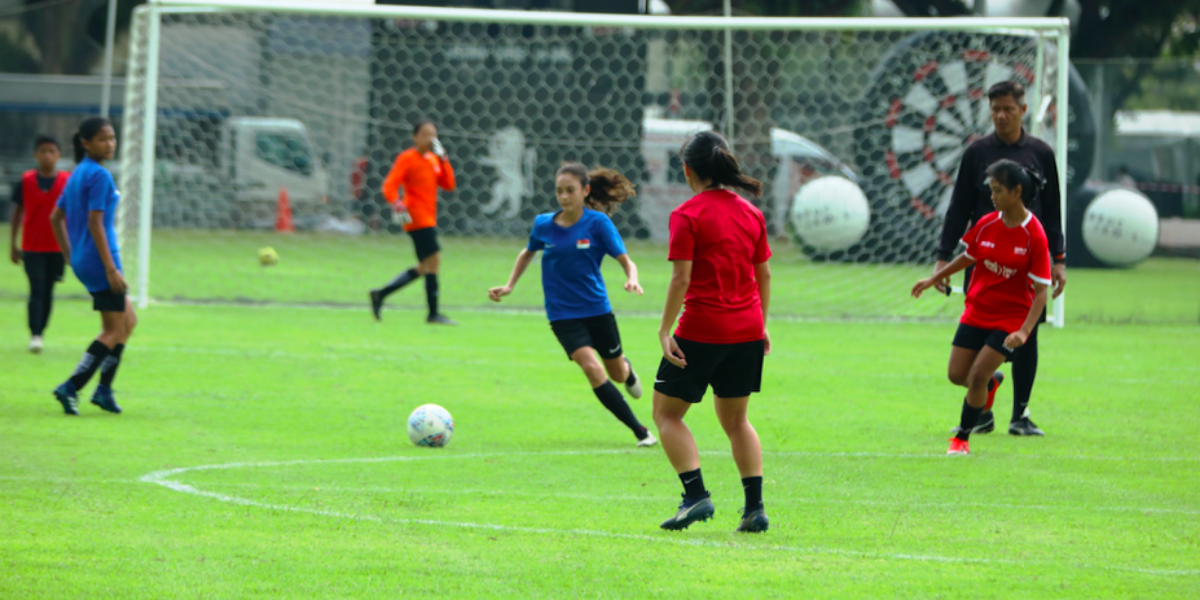 What are some of the challenges you've encountered along the way?
I can think of three challenges. Firstly, when I was 13 years old, I was playing with and against girls who were three years older than me, so they had more knowledge and were taller than me. Secondly, the U16 national team was training for 11-a-side (pitch measurement) international tournaments on a full-size pitch, but I was used to playing seven- and nine-a-side. It took me a while and a few training sessions to get used to playing 11-a-side – it was very confusing at first. Thirdly, I had an Achilles heel injury on my left ankle for about two months and I missed a lot of training sessions as a result.
Who would you like to thank for your achievement and why?
I would like to thank my family for their wonderful support: my brother for always competing against me, which made me want to try harder and get stronger; my dad for teaching me how to play the game, getting me started to play, and for being my coach for a very long time; and my mum for always coming to support me during every game and bringing me to all my training sessions.
Moving forward, what are your plans for football?
At the moment we can only train in groups of eight without competitive matches. In the short term, I hope to become a better player by representing Singapore in the U16 age group, following which there will be a big jump to the U19 Women's team. If I have the chance, I would love to keep playing football in university, especially in the UK where women's football is growing fast in popularity. Perhaps one day, I might be able to make my debut in the Singapore Women's national team – that will be fantastic.
What advice would you give anyone who aspires to join a national football team?
For all young aspiring athletes in any sport, I feel it's really important to follow your passion and have the support to do so. But to follow a passion, you must be 110% committed and ready to put in the hard work. If you are determined, hardworking and willing to make sacrifices, then anything is possible.
Congratulations Kyra, we are so happy for you!