Student voice
31 Oct 2023
CIS community garden receives National Parks Community in Bloom award
Photograph by
CIS Communications
The CIS rooftop community garden enters its second year as a recipient of the prestigious National Parks Community in Bloom (CIB) Awards! This award recognises excellence in gardening across criteria of aesthetics, horticultural practice, community involvement, biodiversity, and sustainability efforts in education institutes and organisations.

To celebrate this wonderful achievement, and in anticipation of what the future holds for our community garden, we speak to some of our eco-warriors on their involvement in this shared passion project. Read on to find out how our students, Horace S.(G7) and Julienne B.(G11), under the guidance of lead teacher, Mr Piers Tanish, help keep our garden flourishing all year round.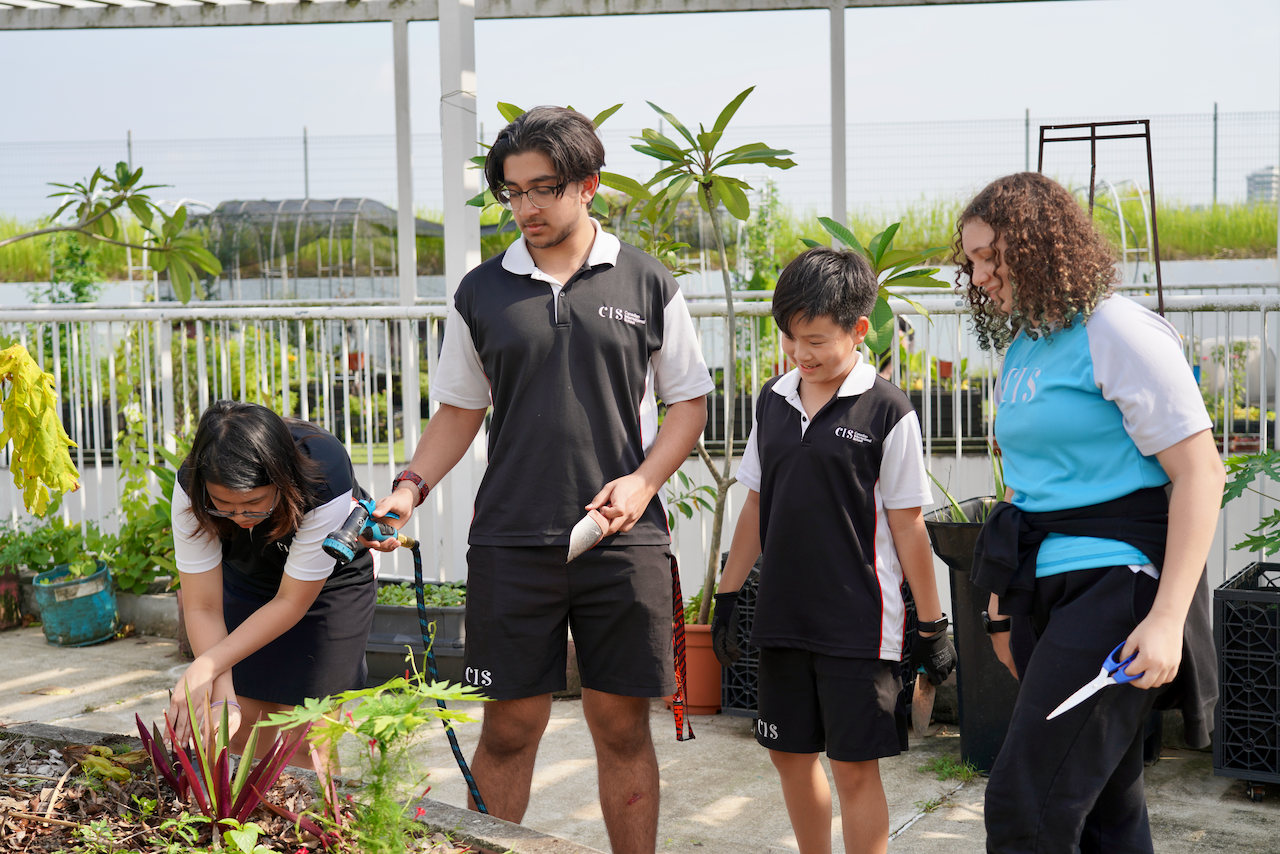 The rooftop space on the fourth floor of Lakeside Wing is easily one of the most beloved spaces on campus. This is especially true for our community gardeners who gather there on Tuesdays and Thursdays after school to do their part in greening our campus.

Students find their way to our garden through different pathways. While Julienne came with an understanding of gardening thanks to her grandfather's lessons growing up, Horace discovered his green thumb at CIS. "My interest in environmental sustainability began during my primary year-end exhibition (PYPX), with my research topic on responsible waste management on Pulau Semakau," he shares. "I joined the community garden initiative because I wanted to make a difference in CIS, and inspire others to join the cause to live more sustainably."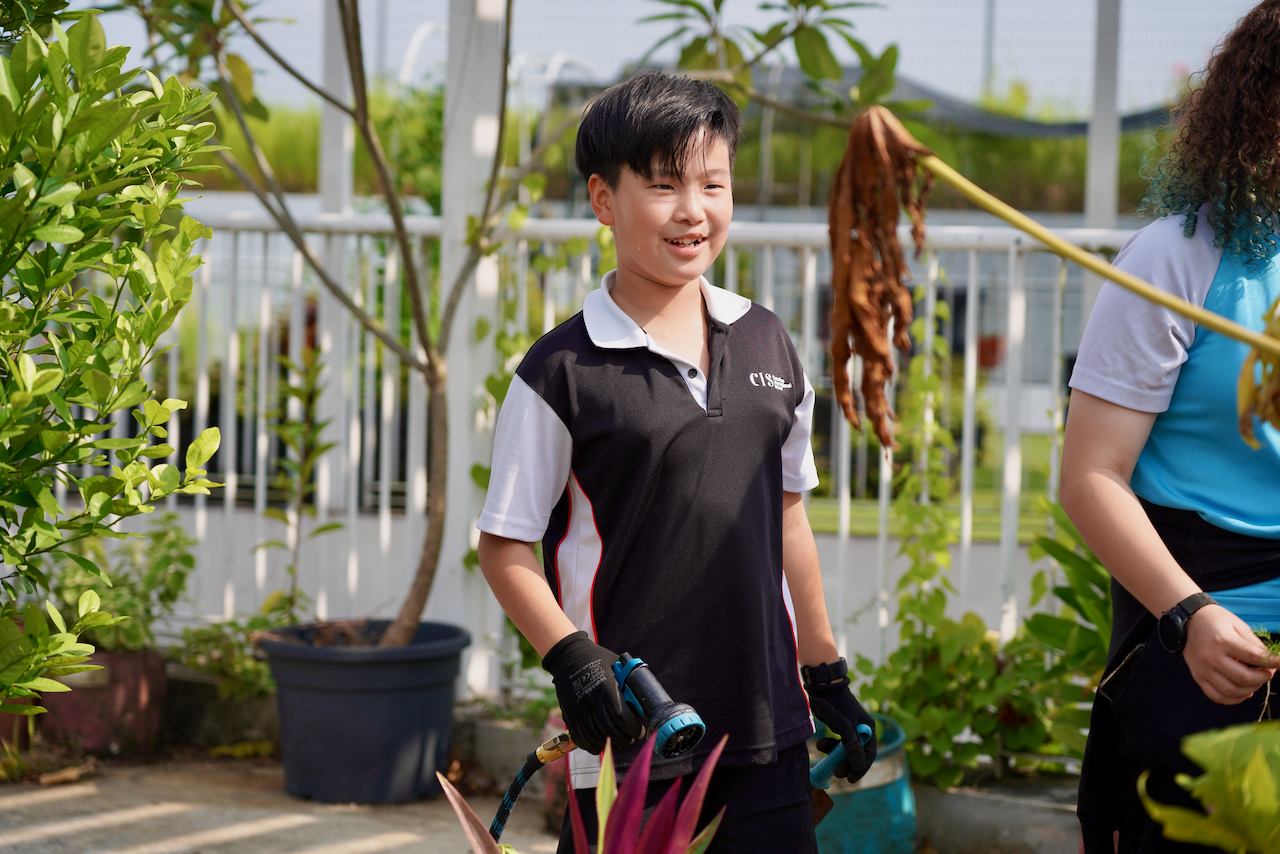 For many student volunteers, interest in gardening and plant care drew them to this co-curricular activity. "I joined this initiative because I enjoy gardening and creating projects related to plants (terrarium, mesocosm, floral arrangements, etc)," Julienne shares. As a DP Geography student in Mr Tanish's class, she saw the call for more volunteers and took it.

From adding new visual features like hanging baskets and upcycled vertical plant palettes, to important routine tasks like watering plants, weeding and harvesting food sources, projects centre around the overall greening of the school to encourage CIS to be more involved in sustainability efforts.
Optimism is high, especially after endorsement from the wider community. "I am especially proud of how our efforts were recognised with our receipt of the National Parks Top 50 Community in Bloom Award, and I enjoy being part of the gardening team," comments Julienne.
Horace concurs, highlighting the success of the produce stall: "Our produce stall, which sells potted plants and roselle tea, is especially thriving. This brilliant [stall] is not only generating profit that we can use to further improve our garden but also providing popular items to the community. It's truly a fantastic accomplishment!"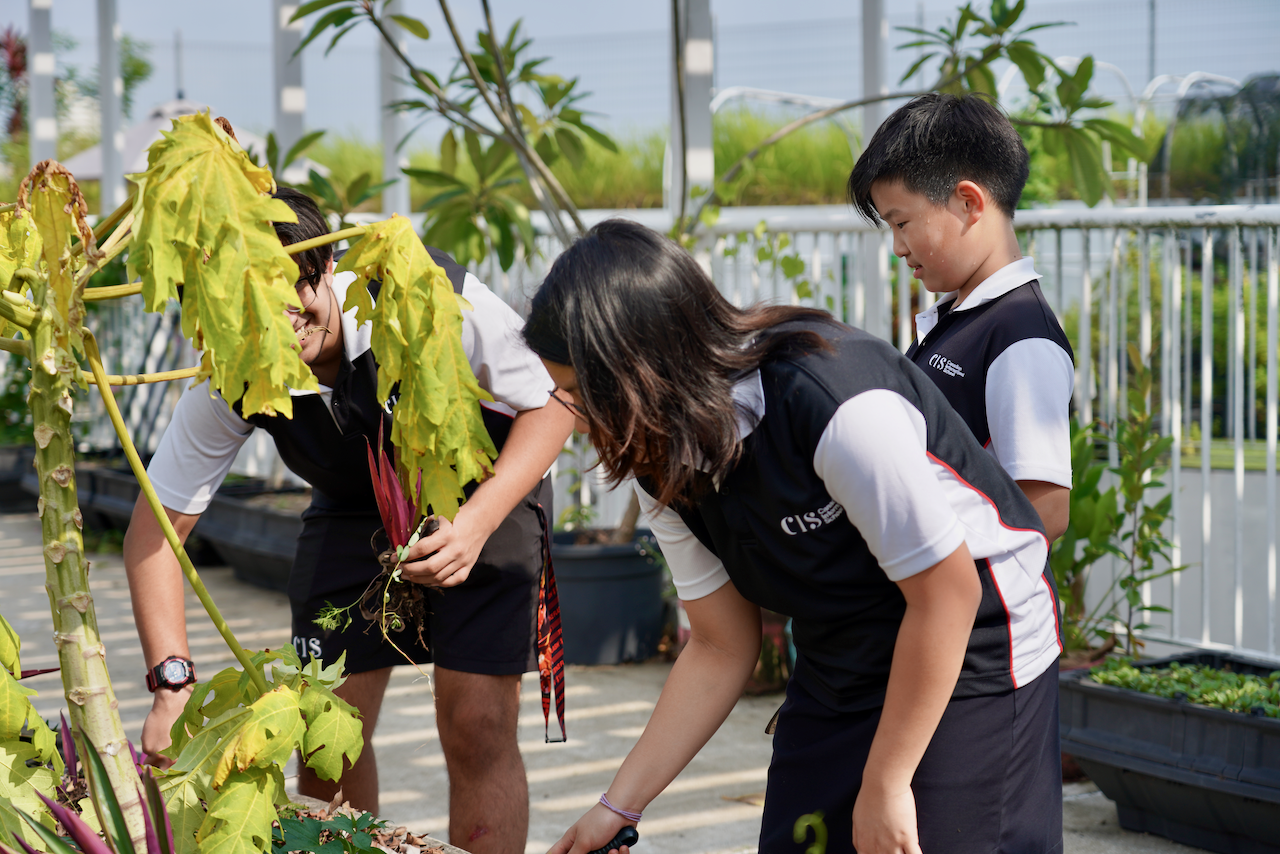 As an extension of this project, our gardeners have recently set up a community garden fridge in the atrium selling freshly harvested organic lettuce. CIS parents, staff and students are welcome to make their purchase at any time using an honour system. All proceeds go to the upkeep of the garden.

Our student volunteers agree that participating in this initiative has enhanced their CIS experience in one way or another, believing that the skills developed will serve them well in the years beyond and in their personal life.
Horace speaks of a practical way his time in the garden has enhanced his academic experience: "Incorporating environmental facts and practical examples [learnt through gardening] into science lessons not only enhances my learning but helps fosters a deeper understanding of the subject matter."
Meanwhile, Julienne reflects on her personal growth and the respect she has come to develop for nature, becoming more conscious of "the modern impact human acts have on our global footprint," through her commitment to this initiative.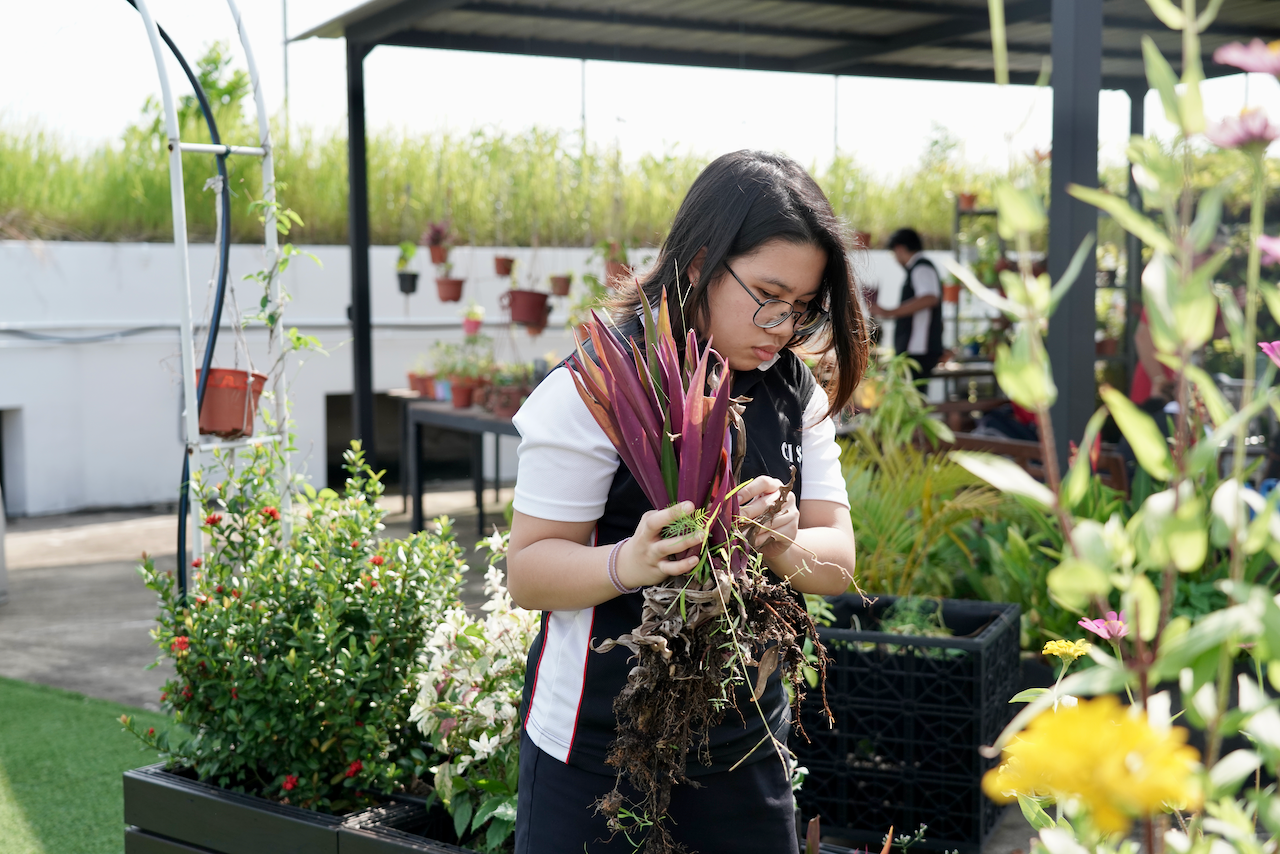 "I've also developed more responsibility for my own personal life and learned that patience, teamwork and problem-solving skills will not only help me in gardening, but also in my DP years at CIS and in university," she further explains.

As for whether they would recommend this co-curricular activity to other interested secondary students? The answer is a resounding yes… Even from Julienne who self-proclaims that she "sometimes prefers plants over people"! "They should absolutely join the gardening club and I 100% recommend it," she states.
Horace is not shy of his enthusiastic encouragement for others to join this initiative."There are numerous benefits to being a gardener. Not only do you get to learn about the environment, but you also get to contribute to the community and develop essential life skills, which is highly motivating! It requires commitment, physical involvement, and a willingness to learn and adapt, which can provide valuable insights to those interested. Being open-minded and embracing both challenges and rewards are vital aspects of becoming a successful community gardener!"
Julienne adds on her thoughts and finishes with some pragmatic advice: "It's good to be aware that our hands will most definitely get dirty from the soil, and that there will be insects around and under the soil. Also it gets really hot sometimes so bring water and a hat if you need."
Well done to all our student volunteers for keeping our gardening growing!