Class of 2021: inspiring milestones that define CIS
Photograph by
Communications Team
CIS's Class of 2021 is in a period of reflection: they're looking back at their time at CIS and forward to the future. What were their milestone moments? How would they describe CIS? What excites them about the future? We asked our graduates these questions and more.

Despite having to face tightening Covid-19 restrictions in the midst of their IB examinations in May, our Class of 2021 have pulled through a challenging year with aplomb.
In fact, many of our students have secured placements at a number of "top 100" universities worldwide, including King's College London, University of Melbourne, Imperial College London, The University of Hong Kong and University of Toronto.
But wherever their next chapter may be, the overall sentiment here is one of pride and accomplishment. "My nine years at CIS have shaped the person that I am today, says Emilia K, who's been offered a place in McGill University's Bachelor of Science programme."I've had plenty of opportunities to strengthen my relationships with my classmates and teachers, and to explore a variety of skills. Memories that will stay close to my heart include surviving the academic challenges of IB with my closest friends."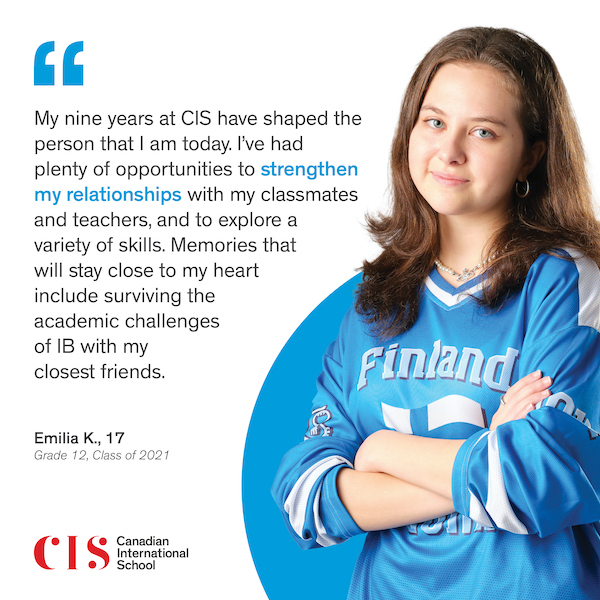 A supportive and uplifting community

Like Emilia, most of the cohort have forged close bonds with CIS community members. Dedicated teachers, friendly peers and a supportive learning environment have made a positive impact on our graduates.
Many of them have also cited personal growth as a major milestone.
"I would redo my DP year if it meant I could play [rugby] again," says former rugby captain Kai N, who will be specialising in international business at the University of Amsterdam.
"The rugby team, [teachers] Mr Tainsh, Mr Lee and [athletic director] Mr Cooper have all made my CIS journey memorable. Working with my teammates, I have learnt the value of teamwork and true camaraderie. Thanks to Mr Tainsh, I also had the opportunity to lead the team as captain."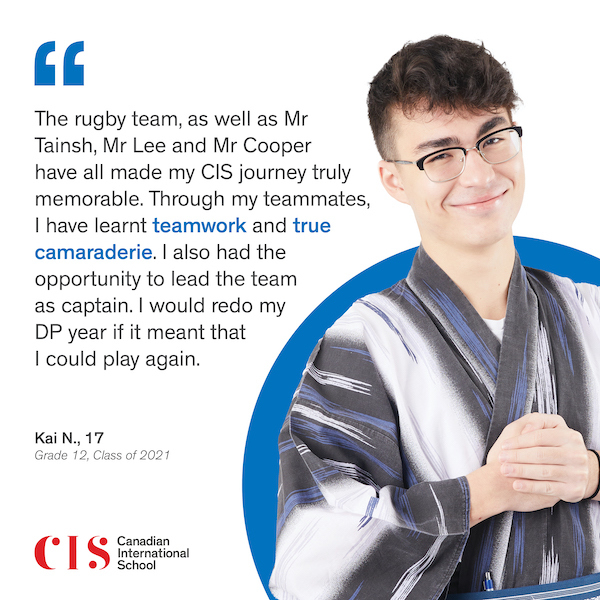 Tingting Y, who is pursuing a bachelor's degree in music at Berklee College of Music, recalls her many "firsts" at CIS – from starting her first rock band and completing a soundtrack production project, to picking up different kinds of sports.
"Every lesson, school excursion and creativity, activity, service (CAS) activity has helped me grow into a better individual," she shares.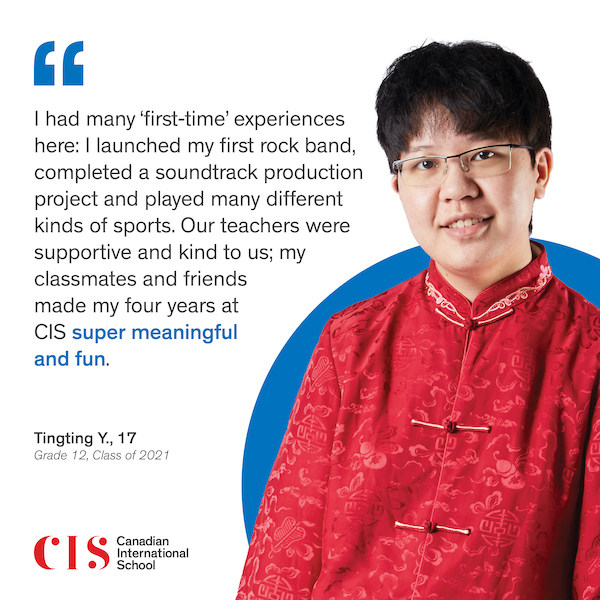 Overcoming personal roadblocks

Skills that are essential for a growth mindset, such as resilience, problem-solving and self-confidence, are significant takeaways for our graduates.
Aspiring geneticist, Ericka Y, who will be pursuing a masters in biomedical sciences at the University of Southampton, says CIS has taught her patience, perseverance and grit.
"There have been times when I have felt that I had hit rock bottom, but my teachers were there to encourage me. I have been able to bounce back from these challenges, and this is in part, because of the CIS community," shares Ericka, who plans to either complete a PhD or work in a research laboratory.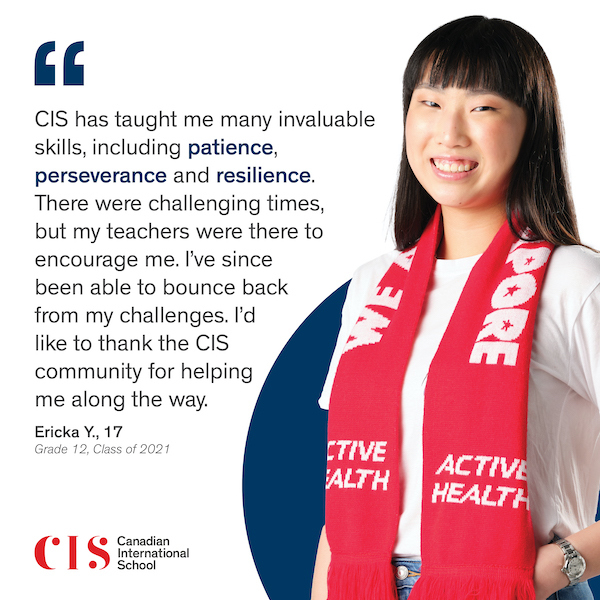 Coding enthusiast Jerry Y, who has been accepted into the University of Alberta's Bachelor of Science programme, agrees. He shares that attending CIS has brought him out of his shell.

"I was extremely introverted before joining CIS. However, being here has encouraged me to become a better communicator, and to have the mental fortitude to constantly challenge myself."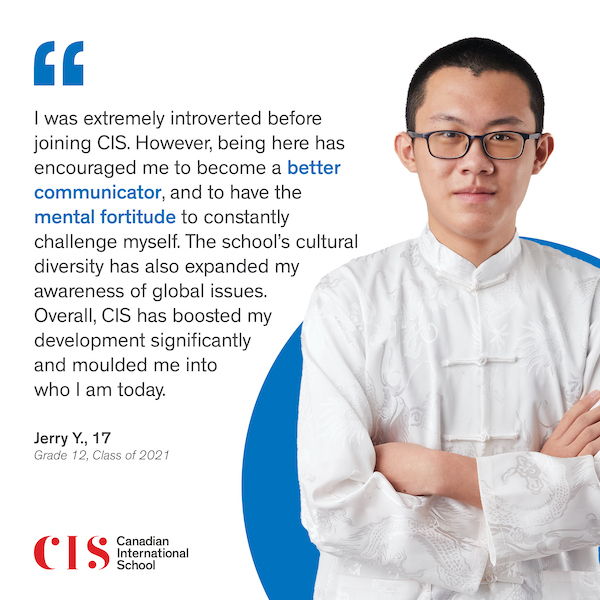 Starting a new chapter

Graduation is a momentous milestone and it goes without saying that many are looking forward to the possibilities of the future. Former CIS student council president, Frank Y, sums up the mood of our graduates.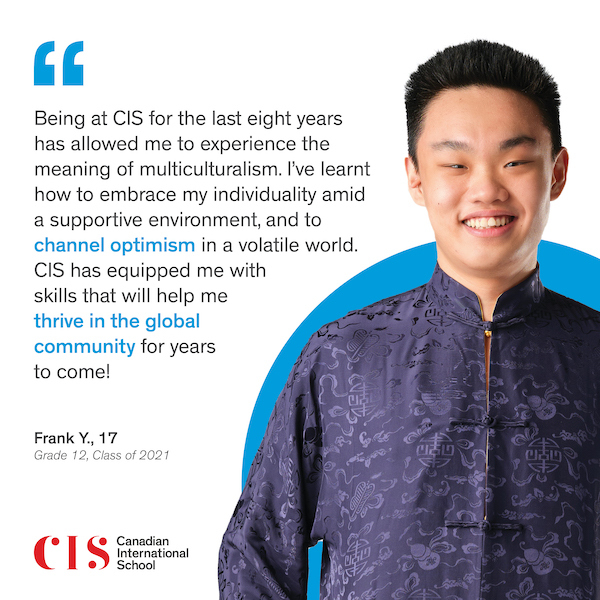 Says the psychology undergraduate at University College London: "I'm excited about exploring a whole new world, and a little nervous about the uncertainty that comes with it. After all, life is about signing up to challenges and surmounting them one small step at a time.
I am looking forward to the relationships that I will build in university. Friendships, professional connections and romantic relationships are all more than welcome!"
We wish our class of 2021 the best of luck with their future endeavours. We look forward to following their accomplishments as they become CIS alumni.