Student voice
23 Jun 2023
CIS students win at the World Scholar's Cup global round!
Photograph by
CIS Communications
UPDATE: We are extremely pleased to share that after competing against over 1000 participants from across different countries in the global round of the World Scholar's Cup, Joanie, Shriya and Mina did the CIS name proud by qualifying for the Tournament of Champions! Together, they won a gold medal for the Team Scholar's Bowl and Team Debate, a silver medal for the Team Scholar's Challenge, and brought home the 1st place trophy for Team Writing in the Junior Division! Well done!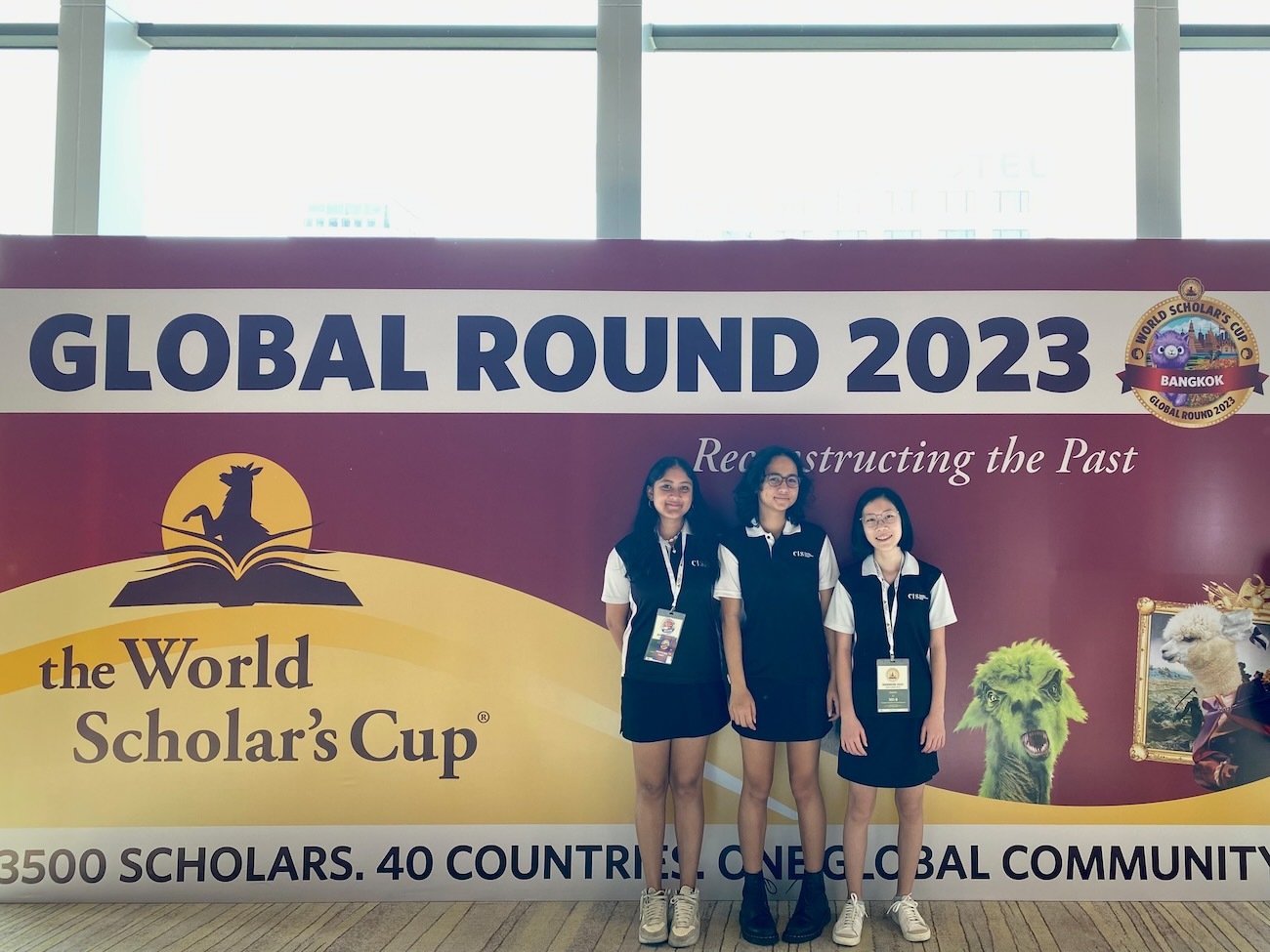 Read our original interview with the team below.
---
The group of CIS students who represented our school at the regional round of the 2023 World Scholar's Cup brought home 5 trophies and a substantial pile of medals. The World Scholar's Cup is a non-profit international competition seeking to inspire in every scholar a love of learning and confidence in building new skills. Teams go head to head in debate, quiz bowl, collaborative writing and a written test called the Scholar's Challenge. Several of our teams will be heading off to compete in the global round in Bangkok against students from around the world.

We speak to a team of rising grade 7s, Mina T., Joanie L., and Shriya S., who will be heading to the global round later this year, on their experience at the World Scholar's Cup so far and their excitement for what's ahead in the competition
What inspired you to sign up for the World Scholar's Cup?
SHRIYA: I have always been interested in debate, and was looking for more opportunities to improve my skills. When I first heard about the World Scholar's Cup, I wanted to take on this new challenge, and it was even more exciting because my good friends Mina and Joanie were doing it with me.
JOANIE: My friends were joining so I decided to give it a try as well. It has been really fun to be able to compete together with my friends!
MINA: One of my teachers gave me a five-minute speech on why it could be a great opportunity for me, and I thought it could be fun. (Thanks Mr. Campbell).
What has been the most challenging aspect of the regional round so far?
JOANIE: Debate has been challenging, because it's difficult to speak in front of people with only a small amount of preparation.
SHRIYA: For me, the most challenging part was the Scholar's Challenge. There is no way to know the questions that will be asked, and they range wide in scope. Even though I found it challenging, it was still exciting because it allowed me to broaden my knowledge, and put my existing research to good use.
How has learning at CIS prepared you for this competition?
MINA: Our teacher, Ms Carte set up mini debates each lesson which definitely helped us get the hang of the debate format, especially since I'd never debated competitively before. She also made useful study guides and Kahoots to test our knowledge.
JOANIE: Ms Carte was great at helping us prepare for the competition, and I went from someone who didn't know anything about debate to someone who actually enjoyed debate competitions.
SHRIYA: We have done activities in Language and Literature classes that are similar to the debating in the Scholar's Cup, and with the help of Ms Carte, the competition was relatively simple to prepare for. The learning at CIS helps with confidence and that is undoubtedly an important part of the competition.
What's coming up next in the global round? Is there any particular event you're looking forward to?
MINA: Team debate is coming up next. It's so much fun and I'm definitely looking forward to it!
JOANIE: Debating is challenging for me but also exciting and something that I look forward to. It's a great way to interact with other people, and participating in debate has helped me become a more confident speaker.
SHRIYA: Debating is the best part of the World Scholar's Cup as it is a way to build confidence and collaborate with your team. We also made many new friends from other schools during the debate.
Has participating in the World Scholar's Cup been enjoyable? Would you encourage other CIS students to participate?
MINA: It's very fun but also a big commitment. I definitely would recommend joining if you are up for the commitment.
JOANIE: I think participating in the World Scholar's Cup is a great opportunity to experience collaborating with students from different schools, even those from other countries, in a fun way. It really builds communication skills and is a great experience that I would definitely recommend.
SHRIYA: I would 100% recommend it to anyone who wants to try out debating, or people who want to improve their confidence and communication skills. It is such an amazing opportunity to collaborate with your peers and make new friends. The World Scholar's Cup has been extremely enjoyable so far, and I'm really looking forward to the global rounds.
View more photos of our students at the World Scholar's Cup here.