CIS students envision a restored Earth
Photograph by
CIS Communications
Congratulations to all students who submitted their entries for the "Nature is Speaking" competition as part of Earth Week. This challenge was issued by Conservation International Singapore, a non-profit charity group who aim to protect local biodiversity, natural ecosystems and heritage through community engagement and environmental education. The competition required students to submit creative entries (drawing, poem or video) that depicted what a restored Earth would look like. A total of 23 schools (CIS included) participated in this competition.
Our students were an enthusiastic group and submitted so many entries that CIS was rewarded with a school prize: a few copies of "The Geography of Hope: A Tour of the World We Need". This coffee table book by Chris Turner, now available in the Lakeside library, features stunning photographs of critical forest spots across the world that give conservationists hope in the face of global environmental challenges.
Commendations: Harnessing creativity to promote sustainability
These students entries impressed Conservation International Singapore:
Aurvi, Yeonwoo, Dhyana, Dylan, Mimmy, Zeran (grade 3)
Sohvi (grade 5)
Ms Alexandra Franklin's grade 2 class
Anvi (SK)
Here are some of their entries: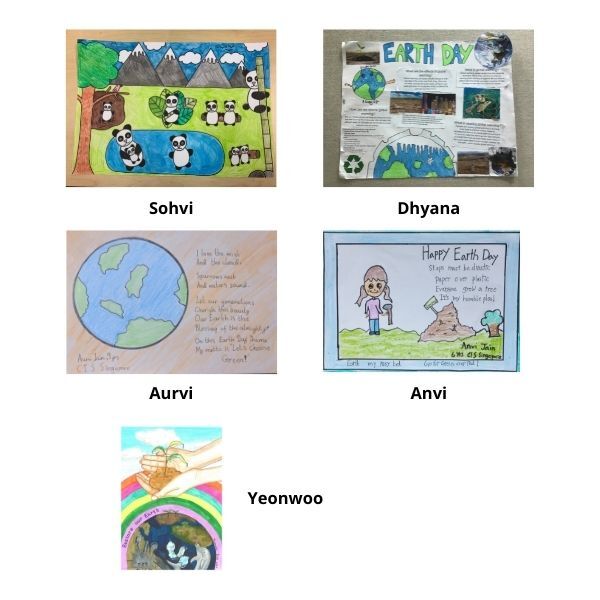 We'd like to offer a special congratulations to grade 7's Nandini R who submitted one of the best 15 entries and was named a Nature Ambassador. Nandini was presented with a commemorative cap and a copy of "The Geography of Hope". This, according to Clara from Conservation International Singapore, was made possible due to Nandini's impressive efforts to speak for Earth in a creative manner.

"Nandini was chosen as one of the top winners due to an outstanding effort," says Clare. "Most entries were drawings of a certain animal/ecosystem, however, we saw that Nandini went to speak for Earth (through visual storytelling) and this is what we hope to encourage students to do — to be the voice."
Nandini made a short film for her entry. "I was working with CIS's animal welfare committee to find organisations willing to work with students and Conversation International seemed like a good choice," she says. "Since I enjoy filmmaking and Conversation International is known for its "Nature is Speaking" videos, I decided to create a video from the perspective of a hawk and used footage of rainforests and river animals to fit in with my theme of unity and living in harmony.
"I did some research using an animal encyclopedia and wrote the script by drawing inspiration from some of my favourite memories of nature — particularly the ones of the lakes I had visited in India and Singapore. It came out beautifully and I feel proud of myself. I'm happy that I entered this competition and I consider this my biggest achievement of the year."

Well done, Nandini. We are sure you will feel proud of yourself as you wear the cap while visiting nature parks or fronting as an environmental enthusiast!

Going beyond the competition
Participating in competitions like these encourage our students to step out of their comfort zone and take the first step towards making the restored Earth they envisioned a reality as responsible global citizens. Well done everyone!
If you are interested in becoming a part of Lakeside's Eco Warriors or want to contribute more to sustainability goals next school year, you can reach out to Mr Blake Richardson the Lakeside Sustainability Lead for more information.