Student voice
21 May 2020
A young published CIS author!
It's never too soon to start - a 3-time published author gives an interview… to her classmates! Many famous authors cite journal writing in their youth as the place where it all started. Others enjoyed creating poems, writing plays for siblings to act in, or newspaper articles filled with family news in their free time. In TK3-1, we are lucky to have a published author as one of our classmates! Samaira K is a 3-time published author. During virtual learning, we took advantage of the screen time to interview her about the writing process, what it's like to see her book in print, and tips that will help our own writing.
When did you first realise you wanted to be a writer?
Last year during winter, my mum introduced me to an academy called 'Young Author's Academy' that helps kids write stories. She asked me if I would like to join the Academy and I thought for a little while about writing a story. Then I decided it would be really fun so I joined it and started writing.
How long does it take you to write a book?
For most of my books, it takes at least three to four months. Sometimes if I need to develop the story, it might take longer. The last one took almost a year. This also includes the time taken to do the artwork and for the publishers to review the book before finally publishing it.
How do you balance your schoolwork on top of writing?
I try to write whenever I get some free time, after all my schoolwork is finished for the day. I try to write at least one paragraph every day. I also write on weekends and during the holidays. This is in addition to all the writing that we do at school. I'm glad we are learning more about the Fantasy genre at school, as this is the style I like to write in. Once the story is finished, I start on the illustrations and artwork during my free time, while the story is being reviewed by the publishers.
How do books get published?
After I write the story draft (manuscript), I send it to the publishers, who review it and correct for any typos. They also give me feedback on the story, and I make some changes if necessary. Once the manuscript is approved, it is ready to become a book. The book is published on Amazon. I have an author's contract with Amazon that gives me ownership, so I decide how much to sell it for.
Where do you get the information or ideas for your books?
I get ideas from my dreams and books that I read and also from nature. You will also find magic or mythical characters in my books. I love animals a lot and they find their way into my stories.
When did you write your first book and how old were you?
I wrote my first book when I was eight years old. It was called "The Adventures of Lilly & Feather". It was about a shy unicorn who goes on an adventure trip with a phoenix.
What do you like to do when you're not writing?
When I'm not writing, I like playing with my Lego, watching cartoons, and reading books. I also like playing the piano and the recorder, and doing activities in arts and crafts.
What does your family think of your writing?
They give me the encouragement to keep writing more books and look forward to the books as they get published. My grandparents, cousins and the extended family all enjoy reading my books and call me to share their ideas as well.
What was one of the most surprising things you learned in creating your books?
I thought writing books would not take much time, since there are so many books out there. But in reality, it takes a lot of time and effort to get the perfect story and illustrations and go through the publishing process.
How many books have you written? Which is your favourite?
I've written two books of my own, "The Adventure of Lilly & Feather" and "Three Friends and Mystery of The Dragons". I also published a short story "To Star Island" last year as part of a compilation for kids and will publish another short story "The Book of Adventure" very soon. I'm currently working on my third full book. I like all my books, but my favourite is "The Book of Adventure".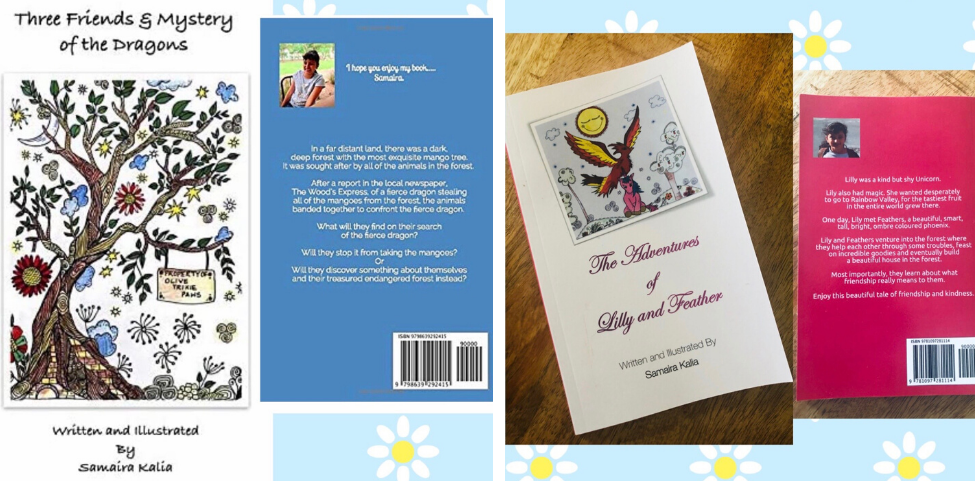 Do you have any suggestions to help us become a better writer? If so, what are they?
Let your imagination flow. Make sure you use the correct punctuation because it can really change the meaning of a sentence. The story has to have a proper beginning, middle and end. Keep a good pen and paper handy for your ideas may come any time.
Do you really think punctuation, capital letters and spelling are important to writing? Why?
Yes, because they make all the difference between expressing a good idea properly and completely missing the point. When I write a book, I usually go through it multiple times to correct any errors in punctuation or spellings. I also make changes in sentences to make them more powerful.
What do you think makes a good story?
First, a creative idea that is told well. Second, the idea should be improved on continuously till it satisfies you as a reader. Third, it should be fun and interesting, some elements of surprise and anticipation that keep a reader interested and looking out for more. Ultimately, the story should entertain and keep someone reading all the way to the end.
What are some books you like to read in your free time? Which authors do you admire?
I love the Harry Potter series by J. K. Rowling. I have read all except the last two. I also like books by P. L. Travers (Mary Poppins), Roald Dahl (Matilda, BFG), David Walliams (Awful Aunty, Gangsta Granny, Grandpa's Great Escape and more). I've just started reading Ruskin Bond (Party Time in Mussoorie), and looking forward to Mark Twain's Tom Sawyer and FrostHeart by Jamie Littler which I intend to read in the summer.
What do you want to do when you grow up?
I want to work at NASA, write more books, open a bakery and maybe work in a newspaper writing articles.
Thank you Samaira! It was lovely to virtually chat with you and hear about your writing passion!