Student voice
20 Jan 2021
A hike for charity
Last year, Divit S from grade 6 at TK, set himself a challenge: across a period of five days, he would hike 5,000 metres up Bukit Timah Hill. In doing this, Divit had a target to raise $5000 for HOME (Humanitarian Organisation for Migration Economics) to support migrant workers who were impacted by COVID-19. Divit met his goals, after 22 hours and 75.5km of hiking. He shares more about his experience.
Why hike for charity?
My father is an avid trekker who climbed Mount Kilimanjaro (5895 mts) in Tanzania in February last year. I have always been fascinated by his trekking expeditions and we had been planning a low altitude trek in Nepal before COVID-19 hit. My father encouraged me to prepare for our future treks by becoming fitter and going outdoors more often, instead of spending most of my time playing games on my iPad. I thought why not, and if I could do something that can help a social cause, that would be even better.
The final push came when one of our neighbours, who is just a bit older than me, took up a charity fundraising initiative and pledged to run 300km over 30 days. It inspired me to do something similar, so I decided to raise funds for HOME to support migrant workers. I chose HOME because they'd visited TK when I was in grade 4, and I was really inspired by how they support and empower migrant workers who suffer exploitation and abuse - especially now when the migrant workers are among those who are most affected by COVID-19.
What were some challenges you encountered during the campaign?
I'd never done so much hiking before, and I didn't get a lot of free time to myself during those 5 days. I decided to take the same path every day but I added a little variety by alternating between steps and slopes. My father used a Garmin watch to track my progress so I'd know when I had hit my target for the day.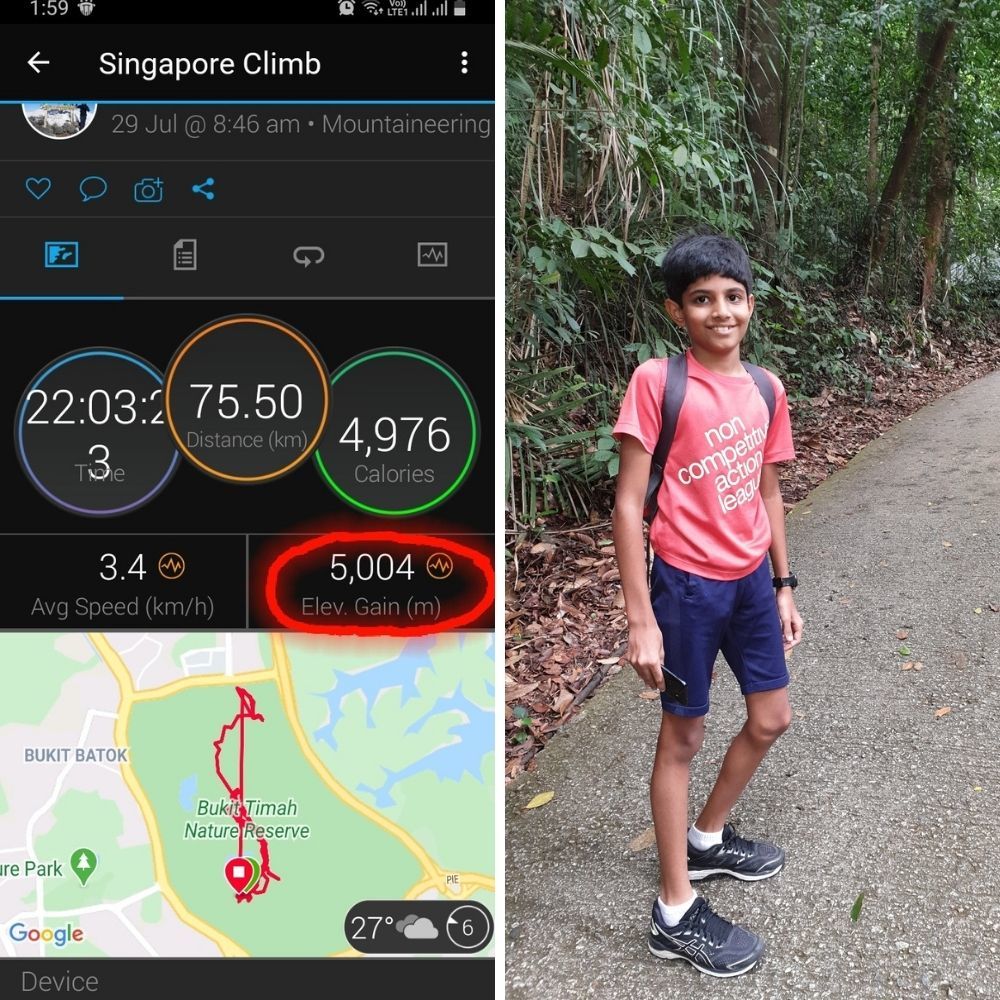 It rained on the first day while I was doing the hike but I decided to push myself and conquered the required metres set out for the day. On the second day, my shoes became so wet I had to change to another pair that was too small for me. I ended up with feet that hurt so I decided to go barefooted for the last stretch.
On day three, the park had to close due to overcrowding but luckily, as we were already inside, we were able to stay in the park when the closing announcement was made. I still remember feeling hungry that day, but we couldn't return to our car to get something to eat because we wouldn't be let into the park once we exited. In the end, I did the hike on an empty stomach until the park opened up again.
Any memorable moments?
The most memorable moment was when I achieved my goal of hiking 5000m up Bukit Timah Hill and of course the fact that I ended up surpassing my target of $5000 by a margin to raise a total of $6805 that I donated to HOME. Seeing animals like colugos, owls and monkeys was also unforgettable.
Who helped you the most during the entire process and how?
My father helped me most during the process. He helped me to plan this initiative, trained me for the challenge and hiked up Bukit Timah Hill with me.
What skills did you learn, and how do they help you at school and home?
This helped me become more confident and develop a stronger mind because I know I can do harder things. This also helped me with physical endurance and time management skills as we needed to hike more on the first three days because I had a friend's birthday party to attend on the fourth day.
Well done and congratulations Divit on your successful community initiative. Let us know when you are planning your next hike!