CIS students win special prize in French Idol 2018
By
Swara Rajiv Ranam, grade 10
Photograph by
CIS Communications
French Idol is an annual French singing competition organised by the teachers of the French Association of Singapore. The competition has been taking place since 2006 in schools across Singapore - last year's host was Lycée Français de Singapour. French language students in Singapore represent their schools or universities in this competition and compete for a trophy as well as the prestige of being the French Idol of that year.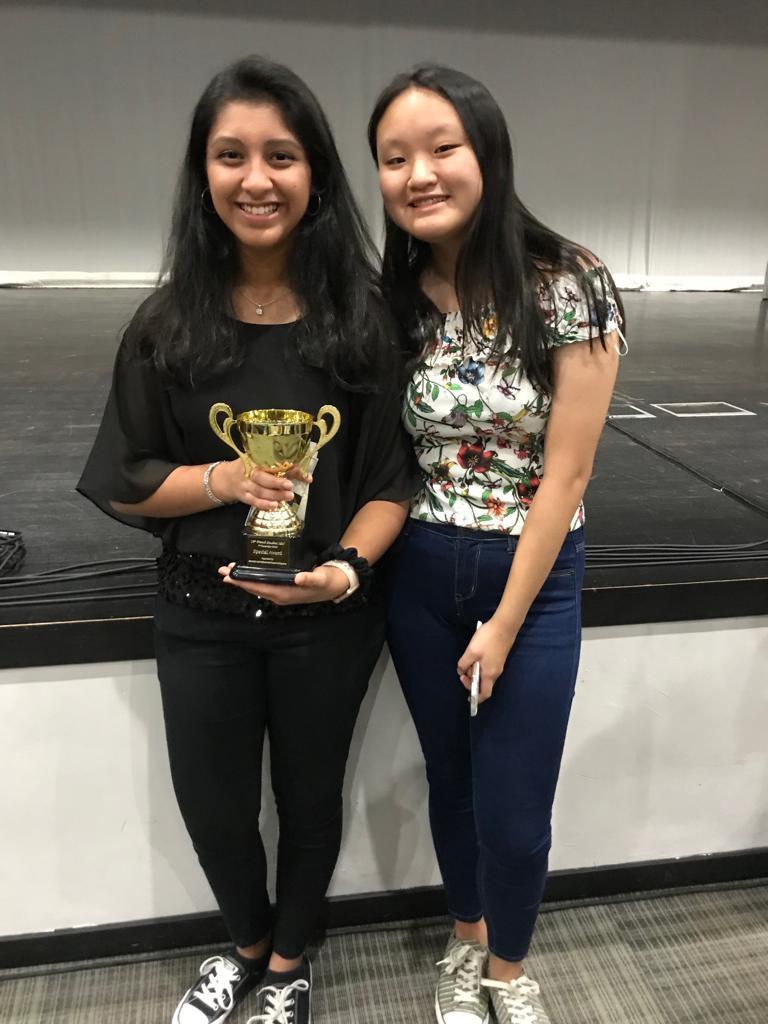 Students prepare for months in order to deliver their best performance in the competition. It's a singing competition that encourages diversity, so participants include both beginners and students who have been learning French for many years. They also come from different French-speaking countries around the world. French Idol is a good opportunity for French language learners to test and improve their language skills through a stage performance. It also encourages learners to keep learning and progressing in the French language.
I have been participating in French Idol for two years and it has been nothing short of amazing. In 2017, I was incredibly nervous to sing on stage in a language that I had just started to learn. My performance did not win me any prizes but it taught me a lot about confidence and stage presence. In 2018, I made more meticulous choices - but they were all incredibly last minute!
The song I chose in 2017 did not suit my voice very well, and initially for 2018 I had chosen a song from the same artist. After practising that song for about a month, I impulsively decided to change the song. It was not difficult because a song tends to stick in my head when I listen to it repeatedly. So I listened to it whenever possible: on the way to school, during break and lunch, on the way home, in the shower and before bed. I'm happy to say that it worked!
I also asked my close friend Natasha to accompany me on the ukulele because it was comforting to have a familiar presence on stage with me. Luckily the song I chose sounded great on the ukulele, so Natasha and I practised almost every day until the day of the competition. Our French teacher, Ms Fiannaca gave us really good advice as well and she even generously gave us both an entire class period to practise our performance.
On the day of the competition, both of us were really nervous. We were honestly intimidated by the performances before us because they included many elements like harmonies, costumes, and even dance moves that we did not have. By the time we got to intermission, we felt that we only had a glimmer of hope of winning. Nevertheless, we decided to practise during the intermission to boost our spirits. Have you ever had the feeling where you felt that 'this was it'? This last rehearsal was the boost we needed. Suddenly we felt very confident and I was having fun as I performed on stage. It wasn't about winning anymore - I was simply enjoying myself and celebrating my progress in learning French. Natasha and I weren't expecting any award. In fact, I was doing Buzzfeed quizzes and Natasha was doing her I&S summative during the award-giving ceremony. Then we heard the announcer say: "Le prix spécial, L'école internationale canadienne: Swara et Natasha".
Thank you to everyone who has taught me French - especially Ms Odile De Troy and Ms Sandra Fiannaca who have been incredibly supportive and patient these past two years. I also thank Mr Lespagnol, Ms Tainsh and Ms Sevilla for supporting me during rehearsals and the performance. Of course without Natasha, winning the special prize would not have been possible. It's not the first place nor is it an Oscar, but it is one of my greatest achievements in French learning to date because it acts as a motivation for me to keep learning more.