Community & Service
19 Mar 2020
WWF Eco-Schools conference 2019
Photograph by
Michael Broadhead
Michael Broadhead (Lakeside sustainability lead) and two Green Machine students recently attended the WWF Eco-Schools conference on behalf of CIS. What was it about and what was the most important takeaway they went home with?
Michael said, "CIS is a WWF Eco-School and the annual WWF Eco-Schools conference brings schools in Singapore together every year. This year's conference saw new schools being awarded for their green initiatives. Natasha A, Sean F (both grade 11s) and myself attended the event.
We mingled with students from other schools and engaged in some rich discussions about the challenges that Eco-Schools face, and the successful initiatives that each school had implemented. Through the discussions, we found out that all schools face similar issues so the networking sessions were the perfect venue for students to forge new connections and show support for their fellow green club members. There was also talk of future collaboration opportunities between Eco-Schools."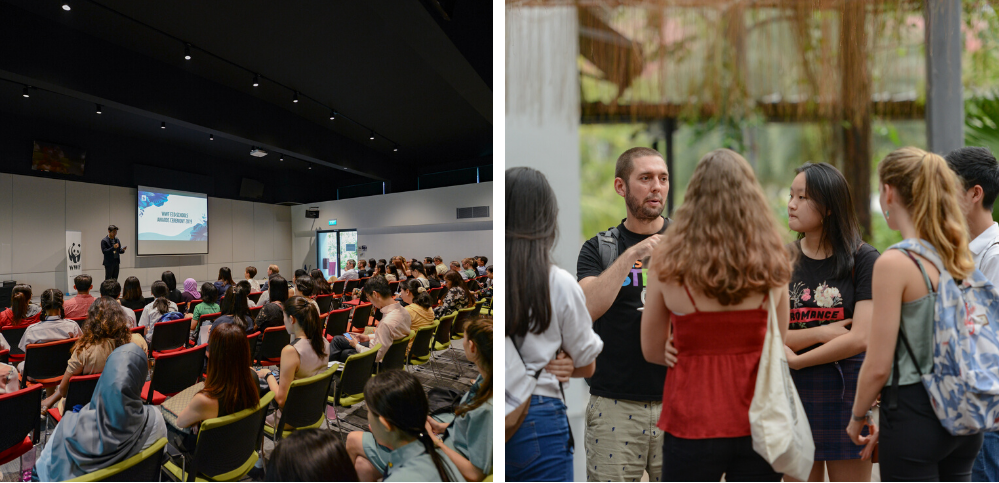 CIS - a WWF Eco-School
Being an Eco-School is an initiative that gives young people a voice in their school's environmental management policies and encourages them to play an active role in protecting the environment - first in the classroom, then their school and eventually the community at large.
The programme is more than just a meaningful way of protecting the environment. It aims to educate schools and communities on environmental issues, and make a lifelong positive impact on the lives of young people, their families, schools and local organisations. Eco-Schools that successfully engage their community in sustainable initiatives are awarded the prestigious "International Green Flag".
An enriching experience
Sean and Natasha who attended the conference as representatives of CIS's Green Machine were clearly impressed by the treasure trove of knowledge the conference offered.
Sean F said, "we discovered that we were all facing similar challenges like lack of school participation and the need to reinforce projects, so we discussed various solutions and learned about the different approaches other schools took. One school worked with NEA (National Environment Agency) to reduce food waste while another school implemented a zero straw policy."
Natasha A, on the other hand, was gratified to see how much progress had been made since she joined Green Machine 4 years ago. She said, "environmental issues were rarely discussed in the past, but today over 25 schools in Singapore are working on becoming more sustainable. It really reminded me of the reason I joined Green Machine in the first place.
As President of Green Machine, I'm proud and very grateful for the opportunity to lead the club. Since winning the silver award in 2016, we have been aiming for the Green Flag award every year. Although we didn't get the award this year, I'm confident that CIS will eventually be rewarded for its hard work and support from external organisations and its community."
A time of collaboration
The WWF conference provided more than just the ability to learn and share knowledge. The networking opportunities allowed students to meet like-minded students, forge new connections and an opportunity to collaborate on some exciting projects. Sean and Natasha's discussion with the LFS (Lycée Français de Singapour) green club might lead to a potential Earth Day collaboration between CIS and LFS in early 2020 - so let's keep our eyes peeled!