Community & Service
20 Aug 2020
Welcoming migrant workers
Photograph by
CIS Communications
When CIS parent Amanda R found out that a temporary dormitory for migrant workers (due to COVID-19 measures) was going to be set up near TK she decided to welcome them to the neighbourhood with their very own care package. It wound up being a true community effort as almost everyone in the TK community contributed to the initiative in some way.
She said, "I read in the WAG (Week at a Glance) that the former Chatsworth International School's East campus was going to be used as a temporary dormitory for migrant workers. There was a fact sheet provided and it was written as if these men would be received suspiciously into the community. I just felt that it was wrong to think that way. These men had been through a lot during the months after the COVID outbreak in the dormitories, and their lives had been incredibly difficult and surrounded by uncertainty. I wanted CIS to do the opposite, to welcome the men with open arms into our community as we would with any new neighbour - to make them feel wanted and welcome, not as though they were convicts who had to be kept away from society.
"I decided that it would be nice if our students could make 'welcome to the neighbourhood' cards or drawings for the workers and also donate a food item that could be given to them."
According to Amanda, the project moved very fast after she had her idea. She said, "I had my idea on Friday (12 June), contacted Angela with my proposal on Saturday (which she obviously agreed to), called David the manager of the dormitory on Sunday morning to check they would be able to receive the donations. By Sunday lunchtime, I had shared my first post on the TK parent Facebook group asking for cards and food items."
Amanda's aim was to collect enough food donations so that each of the 233 migrant workers moving into the dormitory would get at least one item of food. Initially she was worried because the school term only had a few days left (the last day of school was on 18 June) and time was limited. Luckily the TK community was very receptive to the idea and food donations came flooding in. Some people even brought in multiple, fully packed shopping bags.
Amanda said, "it soon became clear that we'd have enough donations to meet the goal. This gave me the opportunity to expand on my idea. What if we could make a welcome pack with multiple food items for each worker? I spoke with my PTA colleagues and they agreed that the PTA would pay for a drawstring backpack for each worker, which could double up as a reusable item."
Under Ms Christa Craats' (Open Minds Coordinator) guidance, a group of hardworking grade 6 students collected the items from the drop-off points and sorted them in the gym. After that, they packed the backpacks with food items like instant noodles, 3 in 1 coffee sachets, cookies etc, and a welcome card made by students.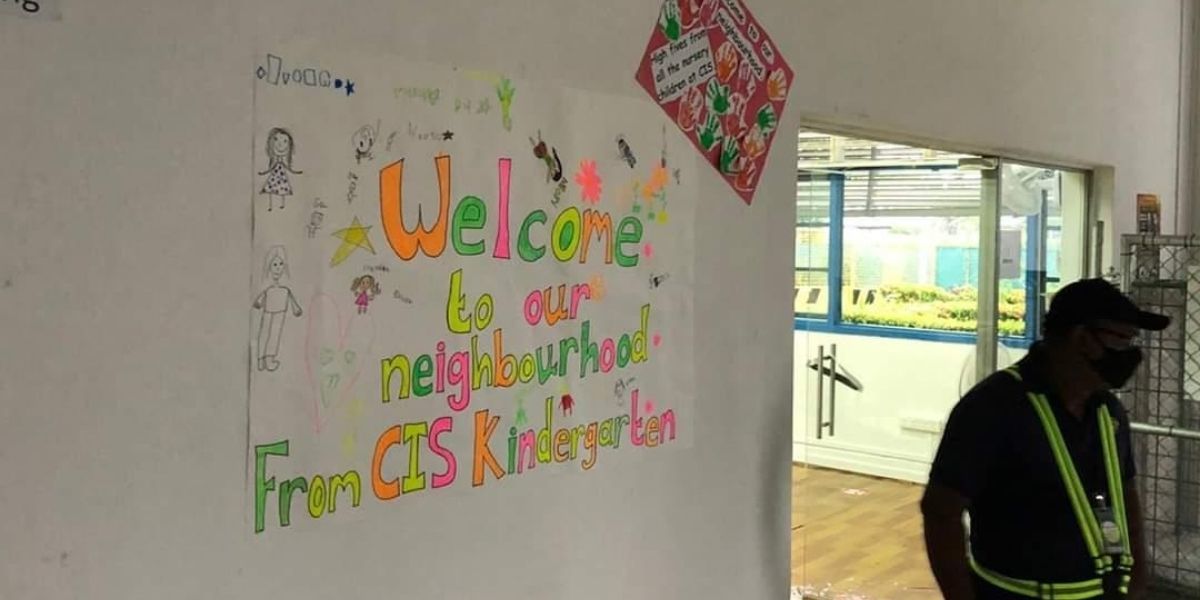 "Many teachers took the time to make welcome cards with their classes while some made banners," Amanda told us. "Almost everyone in the TK community joined in in some way. Even students who were doing virtual learning that week made a special effort to drop off bags of items at school."
After the bags were packed, Amanda worked with 3 other parents who have cars to deliver them to the dormitory. The migrant workers were pleasantly surprised, and emotionally moved, by the food care packages and hand-drawn banners.
Amanda said, "there were uncertain moments in the beginning because I wasn't sure how the idea would be received by the community but it quickly became clear that everyone at TK was totally on board and willing to support the project in a very generous way! It was also wonderful to see photos of the smiles on the workers' faces when they received their bags. I hope that this gave them just a bit of light and hope during what are currently pretty dark times for them."
When we talked to David Tan, the dormitory manager, he shared that, "although many [of the workers] are unable to express their appreciation well, their smiles and gestures showed their gratitude loud and clear. They really appreciated the food items and the messages/drawings definitely helped to calm the anxieties of moving into a new place.
"Thanks to CIS's generosity, we are confident that our residents' physiological and psychological needs are well met. Even our staff were impressed and humbled by the kind gesture. Thank you once again to everyone at CIS."
Sadly, Amanda and her family have left CIS but her wonderful initiative reminds us of that great TK spirit. She said, "we are relocating back to the UK but this was such a lovely way for us to depart CIS and be reminded of what a great community we had been part of. We will certainly miss the TK spirit and I'm so glad to have been part of this last incredibly rewarding project!"
Thank you Amanda. We wish you all the best - "Once a TKer, always a TKer!"