U16 girls' netball team plays with the right attitude
Photograph by
CIS Communications
Saturday 9 March marked a new era for CIS's U16 girls' netball team. It was the day they competed in the South East Asia (SEA) netball tournament hosted by Tanglin Trust School. The tournament saw more than 20 participating teams from all over SEA.
CIS was represented by a 17-member team led by coach Sam Atkinson and a group of core players consisting of Jamie A, Keira A, Zara V, MIkaela M, Shreya M, Natasha A, Caitlin V S, Nina B and Manaya U.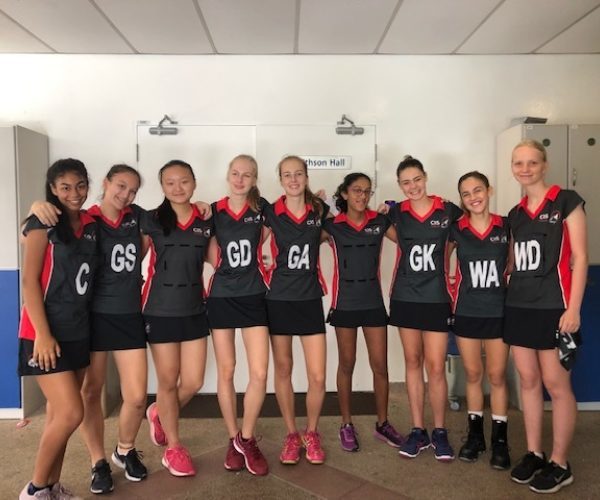 Hard-won victory
We started the day at 7.45am and went up against Dulwich College - one of the strongest teams in the tournament. Unfortunately, we lost the game in a 10-goal point loss but despite this, the girls were composed and cheerful. As parents, we felt nothing but pride as we watched them from the sidelines. It's one thing to have skill but conduct and character are the pillars of a model citizen and these girls have conducted themselves well as they represented CIS.
Undaunted by their loss, the team reflected on their strategy and came back even stronger as they won their next two games against Tanglin Trust School and Kuala Lumpur International School (KLASS), and won with a formidable lead. The girls showed a remarkable team spirit and their comeback was full of humility, grit and fortitude.
After lunch, the team was unbeatable as they played against the A teams from all other competing schools. The result? Our netball girls drew a game with UWCSEA (East) but emerged victorious against Tanglin Trust School, UWCSEA Dover and Jakarta Intercultural School. Great job, girls!
CIS Huskies made it to the semi-finals
I'm happy to say that our girls retained their high Husky spirit, although they were exhausted from a challenging day. The CIS U16 girls' netball team was considered an underdog but they never let that hold back their performance. Our girls focused on one match at a time, made sure their basics were solid and consistently encouraged one another.
During the semi-finals, our girls went up against Singapore Sports School. They were clearly the strongest team that day but our Huskies accepted the challenge, even though they were now playing with zero substitute players. Although our girls missed a few opportunities during the game, they saved every goal they could and put up a strong defensive front.
We eventually lost the semi-finals against Singapore Sports School and the third place play-off against UWCSEA (East) after that, but our girls were satisfied that they had put their best foot forward. We also had a couple of big wins that day.
Jamie A was awarded Most Valuable Player (under 16) for the entire tournament. The Huskies team also returned home with valuable lessons, as well as a new determination and goal for next season. A new benchmark has now been set for the Huskies U16's girls netball squad. They know now they can break their own record with adequate practice, support and teamwork.
A big shout out to the wonderful parents who were a part of the cheerleading squad and returned home with a sore throat (thanks to all that cheering), and tired legs. We hope that you are as proud as we are of our daughters and their coach. GO HUSKIES!