TK students compose a heartfelt song "That's Right We're CIS"
By
By Dan Hartig, PYP Music Teacher
Photograph by
By Dan Hartig, PYP Music Teacher
A few months ago, three students excitedly shared a new song with me. Hyobin C., Rhea B. and Yuika H. are all in the same TK Grade 5 class. While the song was just a lyric sheet at the time, it was packed with descriptive lines about how much they love CIS. The girls couldn't sing due to COVID restrictions, but we composed a melody and worked with GarageBand to record an instrumental track.
When we returned from March break, the students were thrilled about the news that we could finally sing! We decided that it was just enough time to record vocal tracks and share the song during CIS Diversity Week.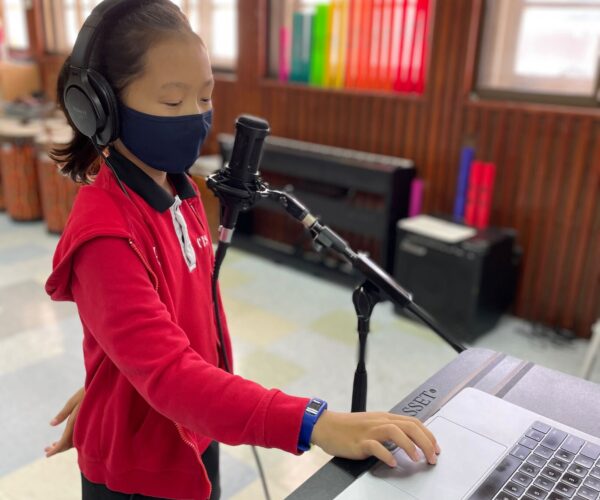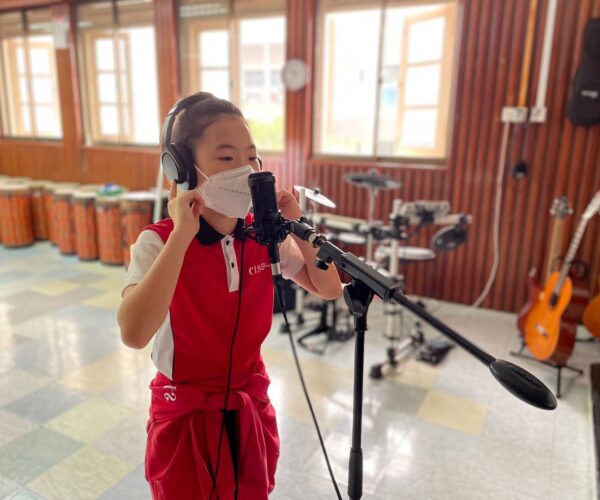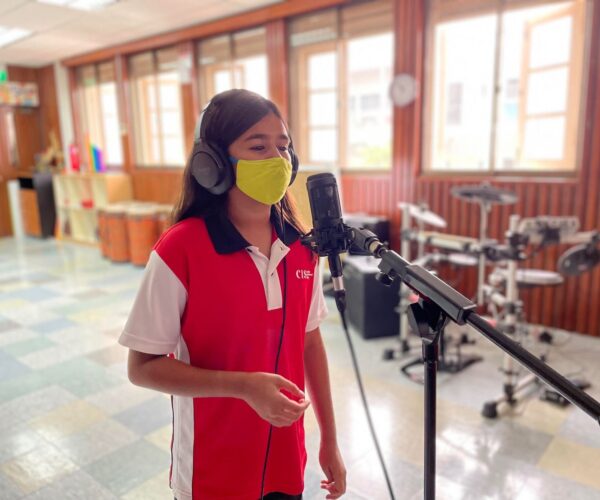 1 of 3
Hyobin, Rhea and Yuika shared more about their songwriting process.
Why did you choose to write about CIS?
Rhea: We've all been at CIS for a long time. We wanted to write about something we really care about and really know.
Can you tell me about your songwriting process?
Yuika: We started with the lyrics, because at the time due to COVID we couldn't sing
Hyobin: We added that melody into GarageBand.
Rhea: When we were finally officially allowed to sing, we were so excited!
Hyobin: We had these really cool mics with headphones and we recorded it for the first time. We're really proud of the song.
There's a unique bridge section of the song. How did that happen?
Rhea: We have a drama teacher, Ms Pozzuoli, who is the lead of Diversity, Equity and Inclusion. Our lyrics said "Cultural Diversity" and she thought we should include more detail, so our bridge section is for cultural diversity.
Hyobin: It shows that just because you're different, it doesn't mean it's bad. It's unique and it's good.
What was your favourite part of the songwriting process?
Yuika: Recording!
Hyobin: Recording, definitely!
Rhea: I have two. One was the lyric writing and the other was definitely recording. When we wore those headphones…
Hyobin: With those headphones, I can actually feel the excitement and reality of it. I always watched that in movies and wished I could do that. When we actually did it, it was a dream come true.
Now that it's recorded, what do you hope to do with the song?
Hyobin: We want to share it with all of CIS, including TK and Lakeside, so kids who are nervous can find comfort in it.
Yuika: Like kids who feel like they don't fit in.
Rhea: We wouldn't want people to ever feel uncomfortable because CIS is very open.
Hyobin: We're a school that appreciates diversity.
Listen to the song here.

Song Lyrics

I wake up in the morning it's time to go to school
I greet my teachers they're all really cool
I hear the bell, it's time for class
I cross the field full of spiky grass
When I'm in art, I pick up my paint brush
I'm painting a bird the colours are so lush
Recess time, I'm heading to the playground
I'm so excited, ready to run around
Yes yes yes
That's right we're CIS
A wonderful community
With cultural diversity
Yes yes yes
That's right we're CIS
Our favourite place in Singapore
A school, a home, a place that we truly adore
It's time for lunch, I'm sitting with my friends
I'm having so much fun I hope it never ends
After lunch I have PE I am ready to run with glee,
Drama class, it's such a blast
Why does time have to fly so fast?
We work so hard when we study math
I really like to pave my path
Yes yes yes
That's right we're CIS
A wonderful community
With cultural diversity
Yes yes yes
That's right we're CIS
Our favourite place in Singapore
A school, a home, a place that we truly adore
Just like the stars, we're all unique
Here we are at Diversity Week
Sharing stories, letting voices be heard
Painting pictures with our spoken word
Tell me your name, tell me what it means
Open minds, planting seeds
Come on down, this is where we belong
Sing it loud, 'cause this is our song
Yes yes yes That's right we're CIS
A wonderful community
With cultural diversity
Yes yes yes
That's right we're CIS
Our favourite place in Singapore
A school, a home, a place that we truly adore