TK parent introduces Homebiogas
Photograph by
CIS Communications
Did you know that Singapore generated around 744 million kilograms of food waste in 2019 alone? This is a worrying figure, especially when this amount is equivalent to two bowls of rice per person per day, or around 51,000 double decker buses.
To tackle this problem and reduce the amount of food waste we generate as a country, TK parent Jamila Bravo introduced CIS to Homebiogas, a machine that treats organic waste and converts it into fertiliser or cooking gas. She also collaborated with Christa Craats, TK's Open Minds Coordinator, to introduce the concept of clean energy to SK and grade 6 students.
"Responsible use of our resources and care for our environment is something all students learn during their PYP UOIs, so when the opportunity arose to make connections between our learning and the Homebiogas system at TK, we jumped at the opportunity to learn more," Christa tells Mosaic.
"Jamilia did a hands-on demonstration of how the Homebiogas system works and how its waste output could be used for fertiliser and gas, which was used to make some yummy popcorn," says Christa. When we can make authentic connections between our learning and the world around us, learning becomes personal and relevant."
So how did Jamila's story with Homebiogas first begin? We had a chat with her to find out more.
Tell us about Homebiogas; how and why did you get started in the business of sustainably converting food waste into cooking gas and fertiliser?
I started my green journey after becoming a mom. I realised that we need to better care for Earth so future generations can enjoy this planet we are living in. It just seems right to pamper this planet since we breathe its air, drink its water, bathe in its sunshine, eat its fruits — all for free.
I started off by becoming more conscious about the use of plastic and sourcing for socially responsible products (eg fair trade, carbon neutral). Then I moved on to gardening and composting. Anyone who has done any kind of composting would know that it's a slow process that also attracts insects.
That's why I was really impressed when I discovered Homebiogas (an Israel-based start-up). Its DIY kit manages your organic waste, and upcycles it into cooking biogas and liquid fertiliser. It's bugs-free, and it's so simple and safe to use. I was so amazed by the results that I decided to dedicate my efforts to sharing about this little miracle digester to as many people as possible in the region (Singapore, Malaysia and Indonesia).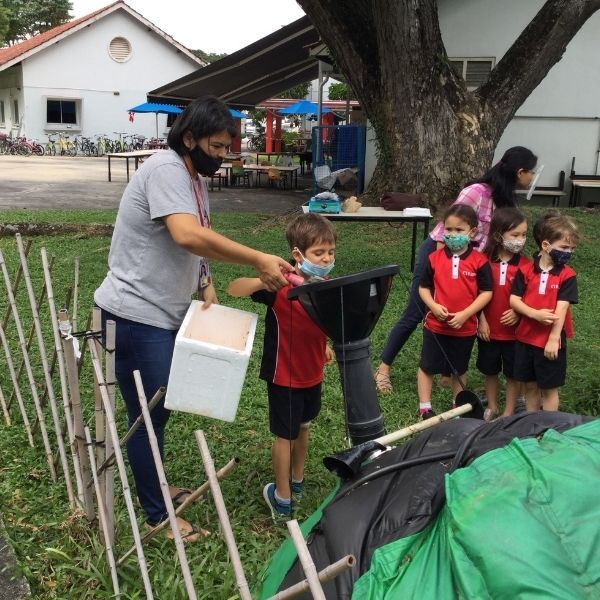 Why did you decide to introduce Homebiogas to Open Minds Coordinator Christa Craats' students?
CIS has a strong and unique Open Minds programme led by a very passionate Christa. I have volunteered for a few field trips and I still ask myself how she managed to survive so many outings! Then COVID-19 came, everyone had to go into lockdown and school activities became extremely limited.
I was very lucky that Christa saw the learning value in Homebiogas and introduced it to her students. It may not be a field trip, but it's an inspiring and enriching hands-on activity where students learn how the Homebiogas system works.
Can you share a little on the sessions you had with the TK students?
We introduced the Homebiogas to the SK and grade 6 students as part of their unit on "How the world works" and "Sharing the planet". The sessions would usually start with an introduction and a video followed by a Q&A session. Then we'd head to the Homebiogas digester and feed the system with all the leftover food the students had collected during snack time and lunchtime.
Together, we studied each part of the Homebiogas system and ended the session by making scrambled eggs using the biogas produced from the students' food scraps. We also explored the different uses of liquid fertilisers.
It was amazing to see the depth of their engagement and how much they want to learn. They asked so many questions that the sessions never finished on time. Once they learned that waste segregation is important and that waste can be a powerful source of clean energy, I could see their eyes sparkling like a scientist in the middle of a lifetime discovery. Even the teachers were amazed and curious about the Homebiogas, and asked many questions.
Tell us about the NEA (National Environment Agency) visit to TK. How did it come about?
Singapore, as we all know, has an important food waste issue and it's their priority to find the most innovative solutions to tackle this issue. I approached NEA and shared about the Homebiogas. When I told them that it's installed at TK, they were eager to visit and understand the system better. Like the student sessions, the visit went on longer than expected because the NEA visitors were eager to understand how a simple process can be used to solve a complex issue such as food waste.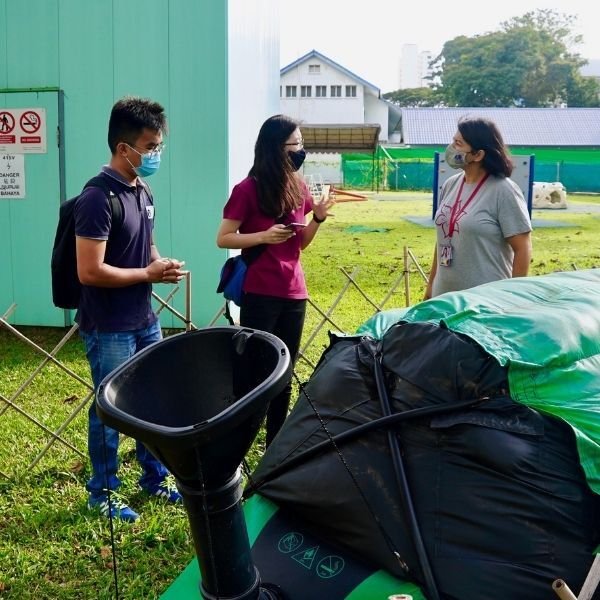 What are your future plans for Homebiogas?
My dream is for anyone who cares for Earth to have access to a Homebiogas. It's our responsibility to create clean energy — if it's within our reach — and to nurture the soil we are stepping on; this is possible thanks to the liquid fertiliser produced by the digester.
In Singapore, this is more applicable to schools and community gardens. Home use will be more limited to landed properties. But what I really want is for both children and adults to understand that they have the power to create a positive impact. We can still create a more sustainable lifestyle as long as we are moving one step forward at a time.
You can also choose to donate a Homebiogas to communities in need in neighbouring countries. Before COVID-19, voluntourism was a programme where families, individuals and corporations could create a positive impact while travelling. They visit a local community and if necessary, donate and install a digester. This is still possible through virtual tourism.
Thank you for sharing your story, Jamila! If you are interested in knowing more about Homebiogas, visit Homebiogas.com or chat Jamila up when you see her at TK.