Film production and promotion: Natsuko's story
Photograph by
CIS Communications
The CIS online film festival was a cross-disciplinary project where secondary students created a short film or designed a marketing campaign. It provided a unique opportunity for our young filmmakers to create a short film, and our designers to explore promotion strategies.
The film festival challenge
Media and film students were issued a challenge: create an original short film with the following themes in a production team consisting of a writer, director, cinematographer, sound designer and editor:
Grade 9: horror
Grade 10: anthology
Grade 11: "A stranger at the door"
Design students, on the other hand, were asked to design a promotional campaign for one of the short films created by their peers. The campaign needed to be in the form of web, graphic, video, audience engagement, physical design and social media.
Although most students worked on either filmmaking or the promotional aspect, grade 10's Natsuko was able to do both. We speak with her to understand how working on both sides of these projects helped her develop insights and an understanding of the film industry's process.
Natsuko's filmmaking journey
Together with her team, Natsuko worked on a short dramatic film called "Unbalanced". It follows a teenage girl who was forced to grow up and support her older sister, after she suffered memory loss after an accident. Natsuko explains, "the film follows the central theme of 'growing up'. We also added a message of our own, which was 'to accept the truth and hardships' that come with life."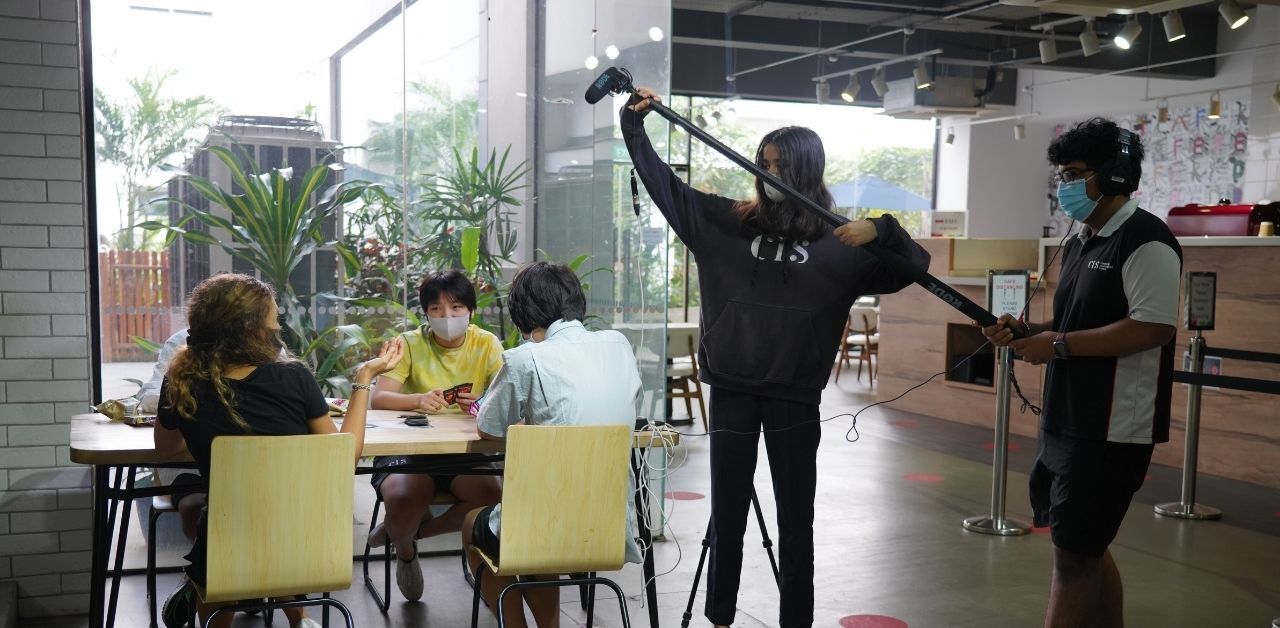 As co-director and co-cinematographer, one of Natsuko's main responsibilities was to drive the storyline. To do that, she drew inspiration from her real-life experiences. "I moved three times when I was growing up," she says, "and this caused many difficult hardships. Sometimes people even forgot about me, which I had difficulty overcoming. However, my parents and environment taught me that there will always be someone who needs me and happy to be my friend again. It really taught me to accept reality and move on to become a better person."

Natsuko also cites the movie 'The Princess Diaries' as one of her inspirations due to its similar plotline. In the Anne Hathaway movie, the main teen character, Mia, had to overcome challenges in order to become the Queen of Genovia. It particularly resonated with Natsuko. "The way Mia faces the difficulty of becoming queen and moving on to fix the hardships she unintentionally created inspired me a lot and helped me learn the importance of acceptance," she explains.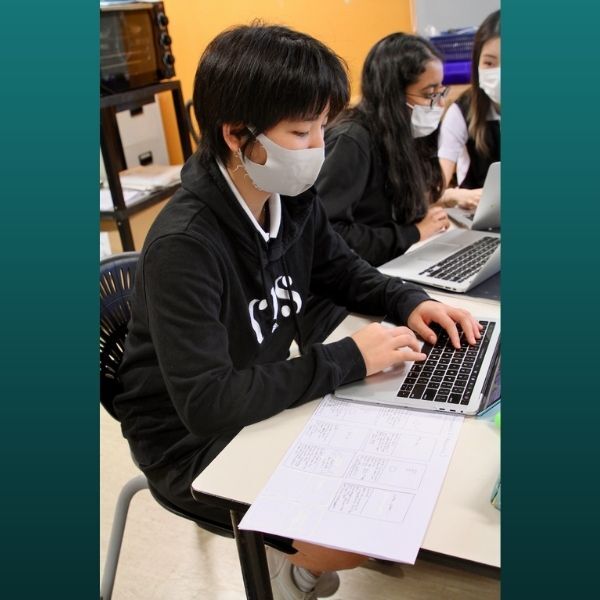 The art of crafting a movie trailer
As a design student, Natsuko was also given the opportunity to promote a student-led film. She and her group members were assigned to a grade 9 horror film called "Paper Trail" — a story about a curious kid who picked up a seemingly normal picture, not knowing its horrible past and what he was getting himself into.
Since Natsuko enjoyed video editing the most, she took on the role of video designer to create a movie trailer. "I think trailers are one of the most effective ways to promote a movie to an audience because they tend to drive the overall tone and give hints about the movie," Natsuko tells us, "I was already confident with video editing software like iMovie but I wanted to further explore Adobe After Effects to see what else I can do with it."
Falling in love with filmmaking
Although Natsuko got to experience two different aspects of the film festival, she personally preferred the art of filmmaking because of the creative freedom it gave her. "We explored many perspectives and we had the freedom to create our own original film. I also improved my leadership skills as I led different people to correctly meet the desired goal," she says, "furthermore, I enjoyed working collaboratively in my group and learning the different parts of filmmaking as I hope to work in the film industry in future."
Film promotion, on the other hand, was a different ball game because she had to adhere to the vision of the original filmmakers. Natsuko explains, "we had to make sure that the promotional campaign motivated our audience to watch the film without revealing any spoilers and yet deliver the message the original filmmakers wanted to convey."
Despite the challenges, Natsuko was proud of her team's work. "I think my filmmaking group created one of the best films there is and my promotional team also did a good job in promoting 'Paper Trail'. Since everyone knew what they had to do, we were able to set up a clear goal and work towards it. Although I feel that we could have done better if we had more time, I'm really happy to have worked on this project and having fun with my team making the best quality of film and promotional campaign."
A review of efforts
Erin O'Rourke, MYP design technology teacher, has nothing but praise for Natsuko's work. "I think she has a unique perspective on designing for another group's film because she understands as an artist what it feels like to have someone take their art and try to promote it. Her creative thinking skills that were developed as filmmakers definitely helped her present and design for the promotional campaigns in unique and empathetic ways."
Philip Roberts, MYP design technology teacher, agrees. He says, "She utilised the diversity of locations and scenes in the short horror film 'Paper Trail' to produce compelling and atmospheric excerpts. She also collaborated with the social media designer in her team to publish a series of video countdowns leading up to the release of the film during the festival."
Great job, Natsuko. We hope the skills you developed during the CIS online film festival will help your future filmmaker aspirations. If you'd like to watch our students' films, visit the CIS Film Festival website can be found here (don't forget to login with your CIS 5-digit email address).