CIS's sustainability champions
Photograph by
CIS Communications
Between 17 and 22 April 2020, CIS celebrated Earth Week virtually. Across the course of the week, a series of challenges were issued. Each challenge was designed to encourage students to adopt sustainable habits. Michael Broadhead, CIS's sustainability lead said the goal was to encourage and incentivise sustainable habits in a positive way, while allowing students to be recognised for their responsible behaviours and contributions towards a CIS sustainable culture.
There were 6 areas of focus in the challenges: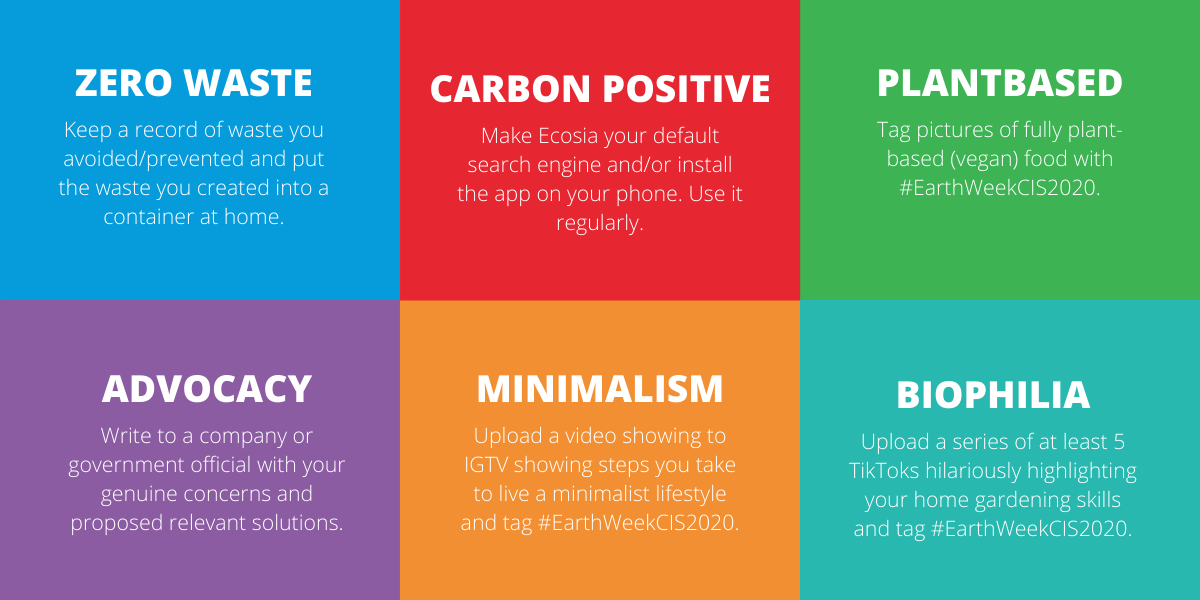 Regardless of the challenge chosen, students had some unique opportunities to see the bigger caring for the planet picture, and the long-term benefits that would come from their positive actions. We spoke to some Earth Week winners to understand what they thought about the challenge they'd chosen and what they did with their prizes.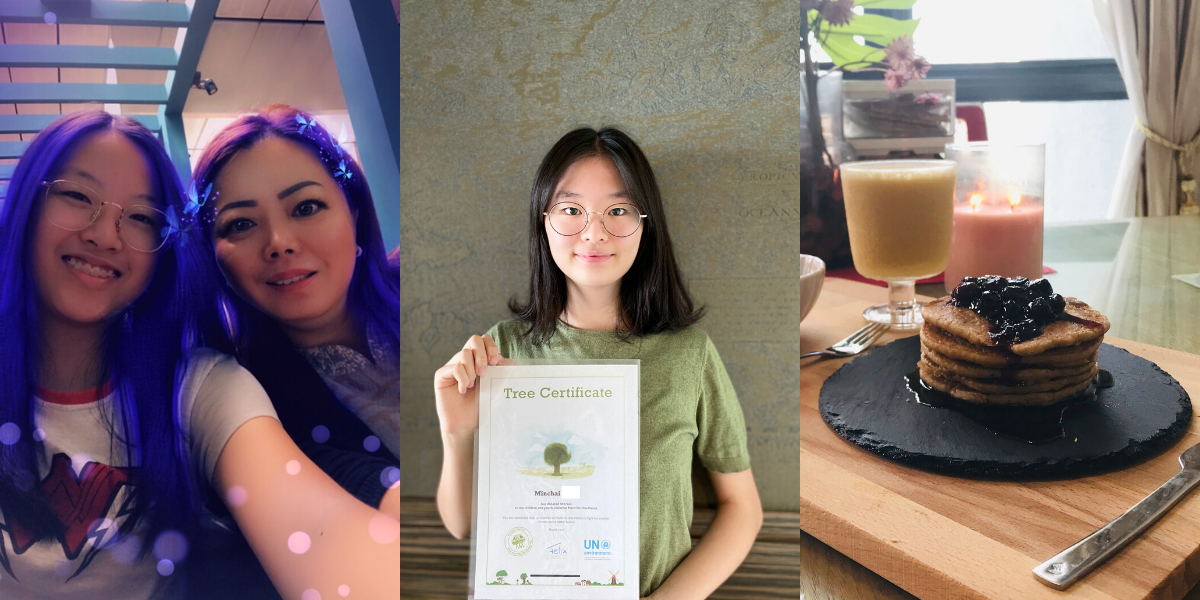 Meviana T (grade 9), winner of the Zero Waste challenge:

Why did you choose to take up the Zero waste challenge?
I chose the Zero waste challenge because I wanted to try a new lifestyle and to challenge myself to be zero waste as much as I can.
Was it difficult keeping a zero-waste lifestyle? How did you overcome them?
Not really, because I personally don't like eating snacks and my family prefers to cook at home and to buy the ingredients we would bring our own shopping bags and cart to the market to avoid plastic bags.
Any memorable moments?
On the first day of the challenge, I decided to make my own reusable mask from a small towel so I could use it multiple times instead of using the disposable masks that can only be used once, and I'm planning to make more reusable masks for my family members and friends.
Why did you think it's important to maintain a zero-waste lifestyle, especially in Singapore?
It's important for us to maintain the zero-waste lifestyle because the world's pollution will worsen if we still use plastic. In 2018, only 4% of Singapore's plastic waste was recycled. But we can increase that percentage by changing our lifestyle through methods like bringing our own bags when we go grocery shopping to reduce the usage of plastic bags, using reusable straws and utensils, and many more.
Why did you choose to sponsor the Orca Simoom as your winning prize?
I choose Simoom because she has a unique name and she's the matriarch in her family and also to protect her family on the West Coast of Canada from sea pollution, fish farms including the industrial development that could produce the toxic waste that will end up in the sea.
---
Minchai K (grade 9), winner of the Carbon Positive challenge:

Tell us about the benefits of using Ecosia as your default search engine?
Ecosia is a stunning search engine for the environment. It uses its ad revenue to plant trees, which means that you get to plant one tree for every 45 searches you make on the search engine. I believe that everyone should do their part to slow down the acceleration of global warming.
Why did you pick this challenge over the others?
Other options were unique and engaging, but I'm most intrigued by the idea of planting trees during the circuit breaker. I'm not really into social media so the other options that involved Instagram and TikToks were not my priorities. I did some research on Ecosia and the idea of planting trees without touching any soil fascinated me. I must admit I was quite sceptical at first because it was too simple and convenient. I soon learned that the process was reliable and authentic after reading through the annual Ecosia reports.
How many searches did you make on Ecosia in total?
By the deadline, I have searched 1216 topics. As of 21 May, I have 1,890 searches. I agree that this is not a phenomenal record but it's amazing how Ecosia automatically detects any ungenuine or random searches because those searches do not get counted.
I understand that you chose to have trees planted in your name as a winner, why and how did you do that?
There were various options for the prize such as gift vouchers for iTunes, Spotify, Netflix etc. Those options looked great and I was tempted to choose one of them. But I wanted to make a more positive impact and felt that planting trees in my name would be a more meaningful option - which is the central purpose of the Carbon Positive challenge to begin with! I received the tree planning voucher from CIS and followed the few steps written on it to obtain the certificate at the end.
---
Julienne B (grade 7), winner of the Plantbased challenge:

Tell us about your plant-based recipe. Was it an original recipe?
The recipe is an adaptation to match the challenge objective. My mom and I brainstormed different ways to make my favourite breakfast (pancakes) and the ingredients to make it fully plant-based.
Who or what inspired you to come up with this plant-based recipe?
My mom inspired me to make this plant-based recipe. I always wanted to start the day with a healthy breakfast, so I decided to use the oats to make my favourite breakfast: pancakes. My mom also loves to make healthy pancakes e.g. from bananas, so we had lots of ideas that we could use for the recipe.
What are the ingredients you used in the recipe and is it easy to make?
The ingredients are:
- 1 cup rolled oats
- 1⁄2-3⁄4 cup almond milk
- 1 ripe banana
- 1 teaspoon vanilla
- 1 teaspoon baking powder (optional)
- 1⁄4 teaspoon salt
- coconut oil, for cooking
- maple syrup, your favourite topping
For the blueberry compote, we used:
- 1 cup fresh blueberries
- 2 tablespoons water
- 1 drop of doTerra essential oil (lemon) / 2 teaspoons lemon juice
Yes, it was easy to make. It involves mostly mixing and the ingredients are available at the supermarket.
Did you run into any challenges while making it?
Yes, we had some trouble with the measurement of some ingredients since we want our pancakes to be fluffier and we had to make some minor adjustments to perfect the batter.
Why did you choose to sponsor the Orca Simoom as the winner?
In school, I took scuba diving lessons and this sparked my interest in sea life and marine animals. I chose Simoom because she is a leader and the matriarch of her family. Just by sponsoring her, we are also supporting her growing family.
Why do you think it's important for us to change to a more plant-based diet?
The high consumption and production of meat causes deforestation and excessive pollution, destroying our planet. Plus, plant-based diets give us a healthier lifestyle.