CIS's first-ever aquathlon
Photograph by
CIS Communications
Action in the MYP is all about a demonstration of a commitment to making a positive difference in the lives of others or to the environment. What do you get when you combine action with the long-term personal project? A remarkable outcome - as evidenced in grade 10 student Rafael G's first ever CIS Aquathlon, where he raised over $860 for the People Improvement Organisation (PIO school) in Cambodia. 
What inspired you to organise this type of event?
At my previous school, we held an annual triathlon. Every year my family and I participated and I felt that an event like this was missing at CIS. This inspired me to organise a similar competition at CIS.  After researching and talking to many different members of the CIS staff, I concluded that an Aquathlon would be the best option. This is mainly due to the limited amount of time I had to organise the event. On top of that, the biking leg of a triathlon has proven to be the most hectic and least safe. An aquathlon involves "only" running and swimming so I decided to go for that!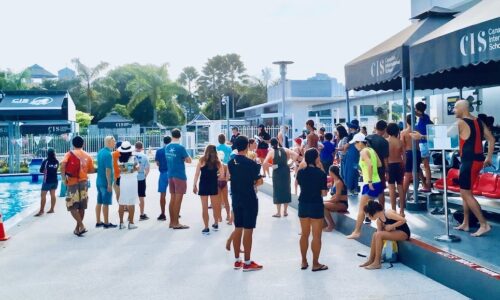 An event like this takes a lot of research beforehand, when did you start?
The P2 project is a long project in which every student puts in a lot of work. The process of planning and organising this event started back in May for me. I first started researching and collecting any information that I needed. I had to begin this early (6 months in advance), so that I could get a spot on the school calendar for the 2019-20 year. My main research consisted of interviews with staff who have organized events at schools before. However, for the P2 project, we are required to use at least four different types of sources, so I turned to books and websites to find out the last few basic details concerning organising a sporting event at a school. Researching was a long process which lasted all the way up to the last day before the event!
What was your aim for the Aquathlon?
I wanted to raise funds and awareness for the People Improvement Organization (PIO school) in Cambodia. I choose to support the charity because when I went to visit them last year, I felt that they would be a good group to give some extra support. The Aquathlon was very successful and we managed to raise over $860 in total. These funds will be used to purchase building materials for school improvements during the Cambodia Family Build trip to the PIO school.
What were the challenges of taking on this event?
During the process of organising this event, I faced many different challenges. Some of them were easy to overcome and others were more difficult. For example, I didn't know a lot about organising a school sports event but luckily I had many people who had organised similar events to help me out. Without these people, it would not have been possible to organise and run the Aquathlon.
Would you do it all over again?
Overall the Aquathlon was great fun and very successful with over 50 participants and we will certainly be organising the event again next year. We will try and expand the event scope by opening it up to other schools so we can get even more participants. This year we decided on 3 categories: sprint (200m swim/run), super sprint (400m/3000m swim/run) and endurance (800m/6000m swim/run).  For next time, we will also change the distances so that they are similar to professional aquathlon events. 
Is there anyone you'd like to thank?
On the day itself and in the months leading up to the event, there were many different people who helped me. All of the swim coaches were present on the day and they really helped out in all the places where I needed volunteers. Coach Helen (head swim coach at CIS) and Mr Jeff Smith (secondary principal) also supported me during the planning of final details and ensured that everything was running smoothly. Also Mr Chandrasenan Varman and Mr Michael Joseph from security for all their help. Without them, the Aquathlon would not have been possible. We also had a great number of participants and supporters who showed up at the event. A big thank you to everyone (swim coaches, student volunteers, participants and donors) for your invaluable help and donations. I hope to see you again next year!