Community & Service
20 Mar 2020
CIS receives special recognition award
Photograph by
Samantha Mackie
On 4 December 2019, CIS received a special recognition award from the Singapore Cancer Society for its Terry Fox fundraising and awareness efforts. As a community, we raised a remarkable $69,332 in 2019. Read on to find out how we can do even better in next year's Terry Fox initiatives.
The award, given out during the SCS Partners Appreciation Dinner on 4 December 2019, recognised organisations for their ongoing support and positive impact in driving cancer awareness. More than 150 guests attended, including SCS partners, schools, healthcare professionals, donors, charity athletes and volunteers attended the event.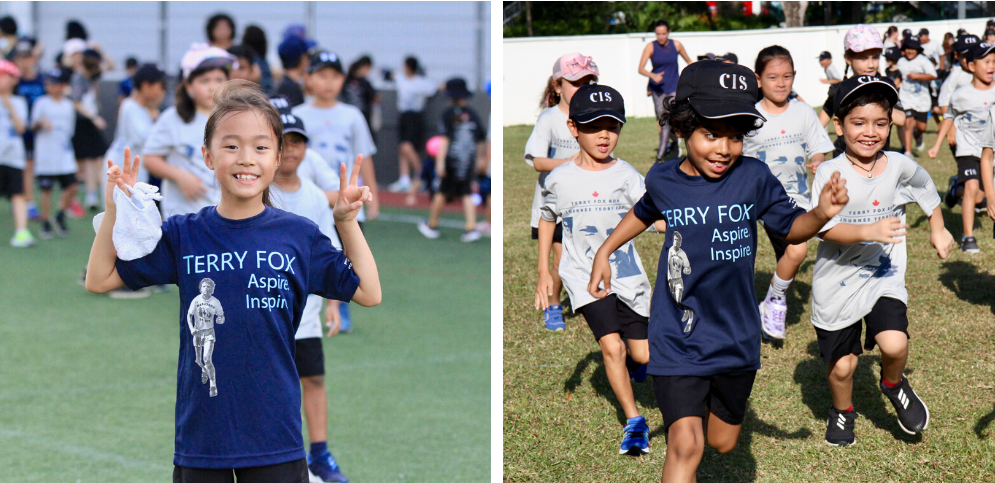 Samatha Mackie, TK nursery teacher and one of the TK Terry Fox run organisers, told us that it was an honour to accept the award on CIS's behalf. She said, "every year in February, TK and Lakeside hold their annual Terry Fox run to raise money and awareness to help in the fight against cancer. It's not the sole effort of one person but the collective efforts and support of the CIS community who came together to do their part."
Rucha N, grade 11, couldn't have agreed more and shared with us that the student committee that she is part of is launching initiatives such as the vintage Terry Fox t-shirt collection, Pin Drive and Feed the Teachers.
She said, "the main focus of our initiatives is to raise cancer awareness amongst people and raise funds. The t-shirt drive is where students and teachers can donate their old Terry Fox t-shirts, which will be sold at a low cost to secondary students who don't have a t-shirt. We will also sell pins at the same time to boost awareness.
As for the 'Feed the Teachers' initiative, we will provide breakfast for teachers during their morning meetings in return for any donation amount. All the money that we collect will go to the Singapore Cancer Society."
And, last but definitely not least, the community can also look forward to catching 'Terry's Got Talent' on 27 February - a talent show that aims to raise funds by showcasing student talent in the form of music, dance, and singing. While everyone is welcome to attend for a night of entertainment, guests who donate stand a chance to win prizes during the event!
Well done, CIS! Let's continue to do our part in the fight against cancer. We raised a remarkable $69,332 in 2019 so let's strive to do even better in 2021!