Community & Service
26 Aug 2019
Canada Day 2019
By
Laura Coulter, TK grade 3 teacher and Canada Day volunteer
Photograph by
CIS Communications
Canadians across Singapore and around the world showed their pride in their history, culture and achievements on 1 July 2019 as we celebrated Canada Day! It has been a day of celebration since 1 July 1867 when the British North America Act created Canada (known as the Constitution Act today).
A wide range of activities are held from coast-to-coast. For most Canadians, this brings up memories of being outside - enjoying cottages by the lake, having BBQs, swimming, inviting neighbours and family over for potluck dinners, setting off fireworks, and enjoying the great outdoors.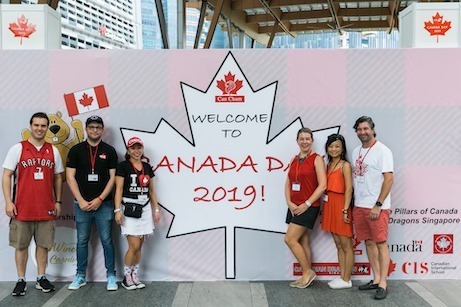 For those of us still in Singapore in July (yes, really, there were still a few here of us!) we celebrated together at the yearly event hosted by the Canadian Chamber of Commerce (CanCham). The event combines people from the 5 Pillars of Canada in Singapore (CanCham, Canadian International School, Canadian Alumni Singapore, Canadian Association and the High Commission of Canada).
This was my fifth year volunteering for the event, and it's always fun and easy to help out. Volunteering gives me a chance to meet new people, help organise or contribute to a part of the day, and to give back to the community that supports us throughout the year. As most events are staffed entirely by volunteers, I feel it's important to help out when you can, so such events can continue to exist. This year's event attracted over 250 people. In fact, Mr Chelsea Guy, Chamber of Commerce Executive Director, had this to say: "We are always in awe of the amount of support this event receives from the Canadian and Friends of Canada community in Singapore."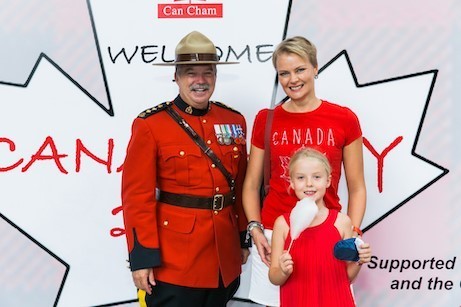 We danced the night away with Canadian classics thanks to "Robyn & Friends", a live band. Harold O'Connell, our favourite Canadian Mountie, also provided plenty of photo opportunities with everyone! There was plenty of delicious food as well. The menu included some Canadian classics like Nanaimo bars and cold Canadian beer. It was interesting to chat with the friendly people who attended. Many of them were Canadian alumni who spoke fondly of their university days when they were studying in Canada. There were also families from the CIS school community and representatives from Canadian businesses in Singapore.
It was inspiring to hear High Commissioner Lynn MacDonald speak about what Canada Day meant to her as well as the accomplishments and events initiated by the Canadian government over the past year in Singapore.
Singing the national anthem is always a proud moment for any Canadian and this year was no exception. Finally, we cut a cake together, much to the eager anticipation of the kids who were standing near the stage. The cake was delicious!
To me, that's what being a Canadian means: volunteering, building community and...enjoying cake together. Happy Canada Day everyone!