Cambodia book project.
By
Lisa Miller, teacher librarian, Lakeside
Photograph by
CIS Communications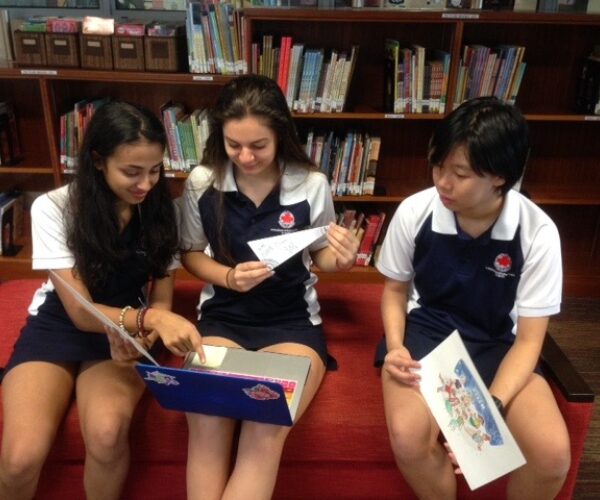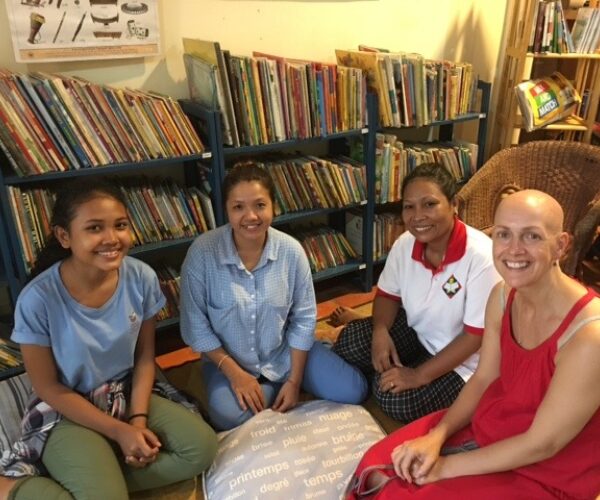 1 of 2
In the library, we constantly challenge our students to seek out cultural stories rather than settle for stereotypes. Three of our remarkable secondary students, Mechelle Wu, Megan Wright and Aakurti Ganeshan lived out those ideals when they were inspired to reach out and connect with a group of students in Phnom Penh, Cambodia.
"The purpose of our initiative," said Megan, "was to come together and learn as much as we possibly could from one another and our respective cultures, and how we could explore what we love to do together." At the beginning the two groups got to know each other by writing, illustrating and sharing "mini-books".
Then they 'met' weekly through Skype calls, with the Cambodian students visiting the Open Book reading room in Phnom Penh so they could connect to share their love of reading and writing.
After listening to each other's stories, the groups decided to co-write and illustrate a bilingual Khmer/English picture book. The purpose of the project was to show how similar children are despite the differences living here, compared to Cambodia. The groups worked as one throughout the school year, collaborating and sharing ideas, housing their work in a shared Google doc, which allowed them to edit and provide feedback to each other. "Collaborating with the students and members of Open Book is also really eye opening," says Mechelle, "we were able to develop international-mindedness through sharing our different ideas and perspectives."
Mechelle, Megan and Aakruti enlisted other CIS students to help develop the stories and create magnificent artwork to accompany each page. "As students, the best way in which we can use our education is to apply what we've learnt in a way that fosters progress and builds positive relationships," added Megan, "and I think that's a large part of the purpose of our collaboration with the literature club in Phnom Penh. We love working with them and learning from them, and writing about the values that, as young people, we share."
Each bilingual page is a fun, colourful and humorous look at the life of an average child living in Singapore and Phnom Penh. Some final Khmer translations are in progress of being finished, before the book will be ready for publishing in August. Stay tuned.