Community & Service
8 Jan 2019
The Power Five strikes back
Photograph by
CIS Communications
Have you been waiting for the sequel to 'The Power Five', a book about third culture kids written by our very own TK PE teacher Jamie Yorke? Wait no more, because Jamie has written two books that continue to follow the adventures of a group of international students in Singapore.
How was the response to your books so far?
I was able to launch the second and third book just one year after publishing the first. The immediate response from the CIS TK community was that most of the students who had read the first book wanted to follow up with the second and third book so I thought that was a really good sign. As a standalone book, 'The Power Five' wouldn't have caused such a demand but having a set of three books opens up more doors of opportunities like author visits and writer workshops to me.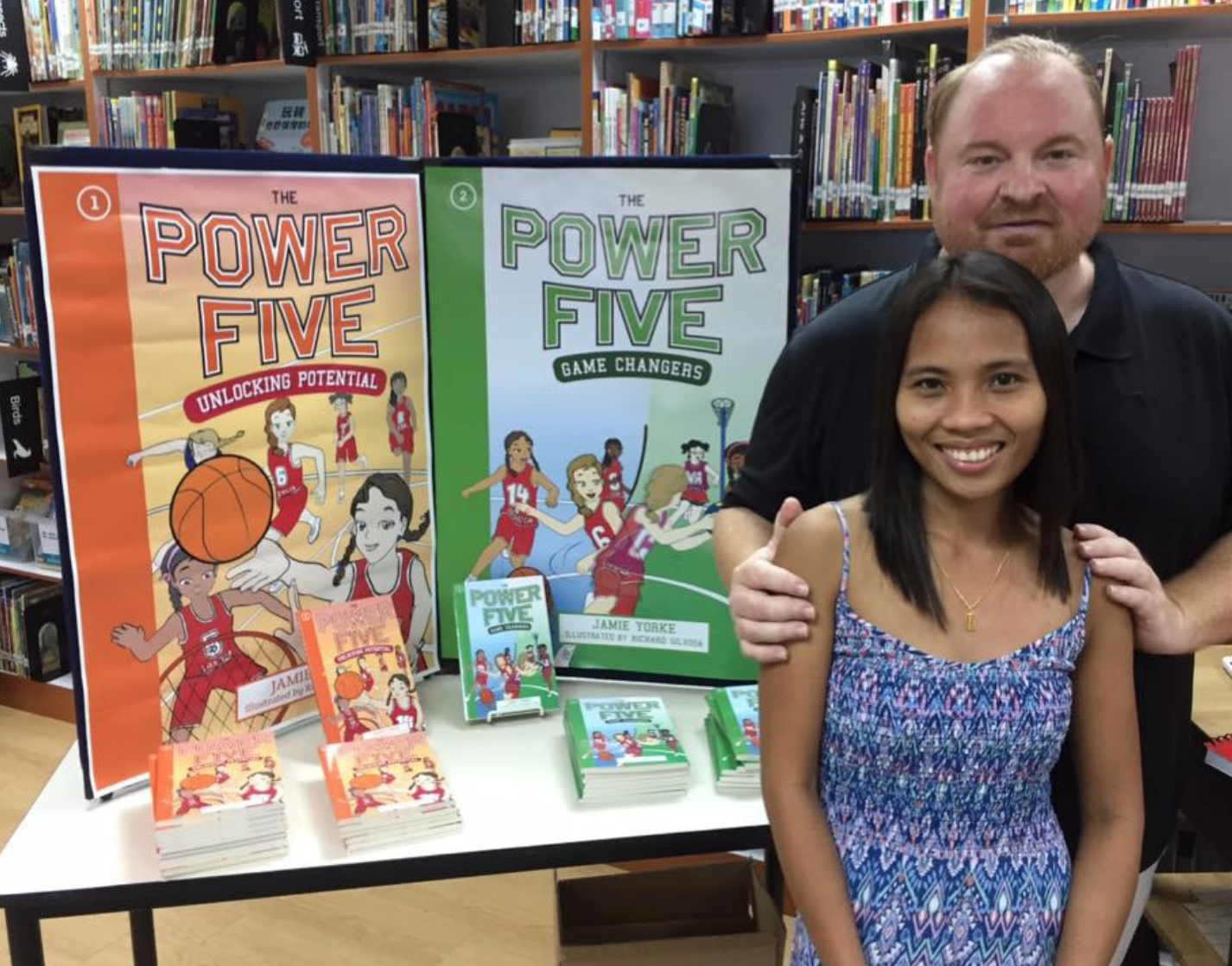 For example, I was invited to be a recurring vendor at PYP Connect. I participated in various events hosted by the AFCC (Asian Festival of Children's Content), authors' speed dating events to network with librarians, and even visited international schools in Phuket and Bangkok recently to do a series of international author visits. It's been a really great experience seeing how international school students outside Singapore connect to my book. I was also invited to host workshops for aspiring writers. Here, I helped guide students on how to weave values and life lessons into stories they were writing as part of their UOI (unit of inquiry).

Tell us more about your books.
I set up a universe of characters in the first book where they were grade 4 students attending a fictional international school in Singapore. In this setup, they had joined the basketball team and promised to be BFFs (best friends forever) for many years to come. My idea from the beginning was to have three books because I'd planned to use the basketball team as a launching pad for each book. The characters would continue with basketball as they moved from grade 4 to 6 at their campus.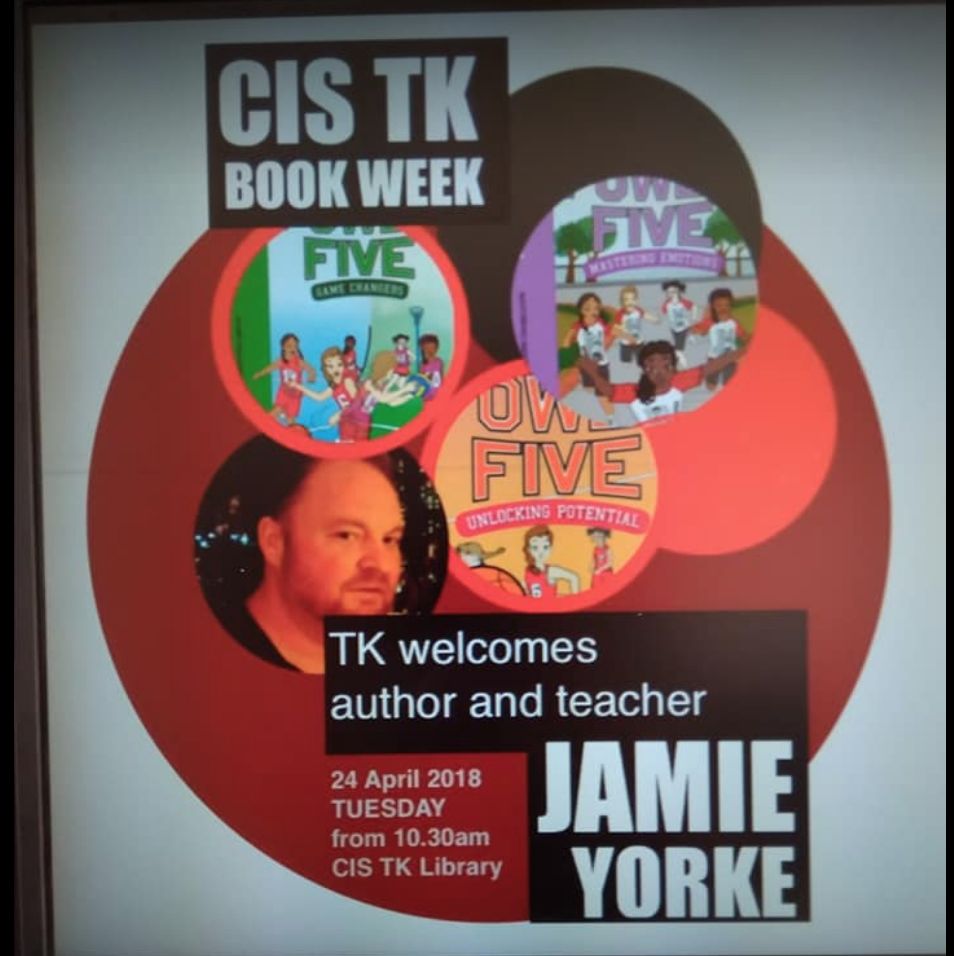 What was the inspiration for the title, 'The Power Five'?
Many people ask me why I named my book series 'The Power Five'. The characters' coach in this fictional universe (Coach Martell) calls his five starting players who begin each match on the basketball court 'The Power Five' - and they really take this nickname to heart. So much so that when they perform in a talent show at school in one of the short stories, they go on stage as "The Power Five". They are proud of the leadership roles they've embraced at their school.
The stories are not exclusive to these five girls as other characters are introduced and join the five main characters at different points, so the fictional universe is actually much bigger than just The Power Five. This allows me more room to tell stories through the lens of different characters including teachers, parents, and students. I touch on the transient nature of being an international student/third culture kids and the unique challenges/opportunities they experience.
Do you base your books on your experiences at CIS?
Yes, I draw heavily on my experience as a coach and teacher at CIS. Before I came to CIS, I taught at international schools in Hong Kong and Korea for seven years. This is my eleventh year at CIS and I really enjoy my time here. During my time as an international educator, I've experienced many school celebrations. Some that stand out are United Nations Week, Deepavali, Chinese New Year. I've also witnessed big events like talent shows, drama productions, and sporting events. I saw how impactful such events could be so I thought of using them as settings for my stories.
International students can proudly relate to my stories because the Power Five are like them - international students who hail from different parts of the world. Some students relate to certain characters more than others. Their eyes light up when they are introduced to Yuko from Japan, Shania and Sam from India, Jessica from both Canada and the Philippines, and finally Julia from Sweden. When international students read my books, they feel a natural connection because they see themselves in the characters.
Do CIS teachers use your books as part of a lesson in the classroom?
Based on the feedback I received, teachers use them in a variety of ways. Some teachers use them as part of a literacy learning centre while others have used them for book studies. I wrote the books with teachers in mind so the short stories have many strong teachable moments. There is actually a "Teachable Moments" section after each story that highlights potential learning experiences.
My books can also be used as a resource for highlighting celebrations like United Nations Week or Deepavali. Sometimes teachers will have their students read one of my short stories before a major event to get them excited as part of a pre-connect, preloading their learning before a celebration, and/or to reflect on a celebration after its conclusion. This has helped students connect my stories to their real lives.
My books have the learner profile attributes and attitudes built into the stories as well. Words like 'communicators' and 'risk-taker' are in bold so they highlight the importance of such attributes to students. When teachers introduce a particular learner profile attribute, they may use my stories to highlight and enhance the learning - which is more meaningful than just pointing to a picture on the wall for example.
Any memorable feedback you received from teachers or students?
The most memorable feedback has got to be the natural feedback I receive from students. They come up to me and tell me how much they enjoy the books, and ask when I'm coming out with more. There was one time when grade three students were learning how to do a school survey and one of the survey questions a student included was 'what is your favourite book series?'. The Power Five' was one of the multiple choice options students gave, alongside Harry Potter, Wonder, and Judy Moody. I was proud that some students had answered "The Power 5" in the survey.
I also love coming across students that happen to be reading my books as I pass by. I've experienced this in the canteen, library, and even with their parents at the coffee shop across the street from the school. Another recurring theme is to see new CIS students searching out my books as a way to connect to their new CIS community.
What is one recurring theme throughout your stories?
A big part of my stories focuses on friendships and relationships. For example, one of the main characters feels homesick in one story so it provides an opportunity for her friends and classmates to help her through that difficult time. I also write about parents and teachers providing guidance throughout the books so there is a lot of focus on relationships. When I go on author visits, I like to promote our school using the three dots of the CIS logo. Some parents may not know this but the dots represent the influence of parents, teachers and classmates. This strong connection between students, parents and teachers is also present in my books.
I try to make my stories as realistic as possible so they are not always on positive and happy things. Students experience conflicts in their day to day lives at school. They sometimes make bad choices and have to overcome challenges. For example, one of my stories used a real-life event where Singaporean, Joseph Schooling, had won a gold medal at the summer Olympics. One fictional student didn't feel overly excited as he was new to the school and didn't feel emotionally connected since he is not Singaporean. The Power 5 and friends tell him all the wonderful things about Singapore and the importance of having respect for your host country. As the story progresses, the student's attitude improves and he begins to feel proud of Singapore's accomplishments. It's a chance to look at cultural sensitivity and how we can support one another as friends.
Will you be following up 'The Power Five' with more stories, but from another perspective?
Yes, I'm in the process of writing books four and five. They will focus on two younger girls who joined the original Power 5 in book three and became quite close with their new teammates. As the original Power 5 finish up grade 6 in book three, the new girls get to lead the next generation of The Power Five on Coach Martell's basketball team.
I'm also planning to write a series about a group of boys attending the same fictional school. Braden, one of the main characters is a familiar face as he is the younger brother of an original character Jessica. He has been appearing throughout the first series as a supporting character, but this time he will play a more significant role as the main character in "Braden's Buddies". This is a chance for us to relook at learning opportunities and celebrations through different lenses and continue to tell countless untold stories of Third Culture Kids.
There will actually be an overlap of stories in some cases as Brayden and his buddies are at the same campus as the new Power 5.
Want to read the adventures of The Power Five? You can check them out at TK and Lakeside libraries or your nearest public library.