Grade 7 Fleur's dual victories
By
Fleur Jolie H, grade 7
Photograph by
CIS Communications
It was a big weekend for me on 9 and 10 March, as I competed in two athletic events. On Saturday, I attended a track and field meet at the Singapore American School, where my team scored gold in the 4x400 relay. On Sunday, I was up bright and early ready to compete in the Metasprint duathlon - where I came in first in the girls' 12-13 category.
To win two events in one weekend feels amazing, and it shows me I have been working hard enough to build my strength and stamina. Running is a great way for me to stop thinking about school, and it helps me let go of any stress I have. It also helps me become stronger physically and mentally. I get inspired when I compete in an aquathlon, duathlon, triathlon, any race really, because I see so many people doing their best. This inspires me, and makes me want to do better.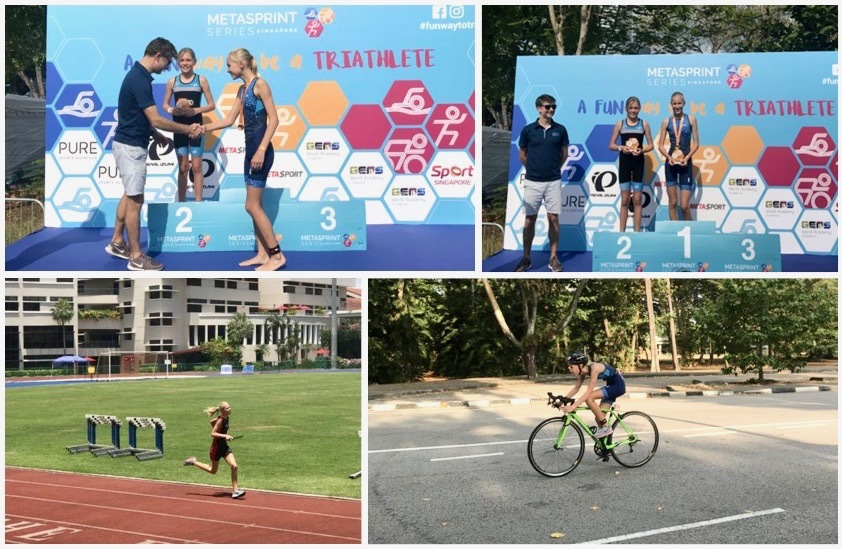 During the duathlon, I kept telling myself that I had to stay strong. Physically wise, I knew I could complete the race because I had done it before so it was just a matter of keeping up my morale and determination. The relay, on the other hand, was much shorter. Even so, I kept telling myself not to let my team down, and I'm really glad I didn't.
I'm in training mode again now as I prepare for a triathlon on 28 April and another track and field meet in May. I am really looking forward to my upcoming races, and I hope to do well again.
I'd also really like to take the opportunity to thank a few people:
Thank you mum and dad for all the support (and car rides) you've given me so I could get to my practices safely.

Thanks dad for all the Sunday morning training on my bike; you have definitely inspired me to push beyond my limits!

Last, but not least, thank you Mr Cantelon because I wouldn't have joined the track and field team without your encouragement.