CIS swimmers selected for FINA World Cup 2018
Photograph by
CIS Communications
It is always cause for celebration when CIS students make it big on the world stage or emerge as champions in their own right. This is exactly what has happened for Gabriel Sassanovicz De Asevedo (grade 11) and Jake Harris (grade 10). These two incredible athletes were selected to participate in the FINA World Cup because they are two of 160 Singapore Swimming Association swimmers who have scored 500 FINA points or more.
Not only is it an honour to participate in such a prestigious meet, the boys will also get the opportunity to compete against some of the world's top swimmers including Joseph Schooling, Chad Le Clos, Kyle Chalmers, Daiya Seto, Katinka Hosszu and Sarah Sjostrom.
This achievement did not come without a lot of hard work. Both swimmers spent their school breaks training, and worked in as many swim and dryland sessions as they could. In fact, Gabriel swam over 40km during the last week of his recent school break - an amazing feat considering he had gym and pilates on top of his swim training.
We chatted to both boys recently to learn more about how they were feeling about this honour, and the upcoming meet:
How do you feel about being selected?
Gabriel: I've been swimming for pretty much my whole life and it is such an amazing feeling when I look back and see that all the effort that I've put in is paying off. It has kept me motivated to achieve even more milestones.
Jake: Being selected to attend this meet is honestly a dream come true. Two years ago when I lived in Dubai, I had the opportunity to watch the swimming segment during World Cup because my swimming club at the time was one of the sponsors. It was really inspiring to watch some of the best swimmers in action. From then on, one of my dreams was to compete in an international meet.
What are some challenges you've faced during the selection or training process?
Gabriel: I had a rough start to the season. I didn't swim as well as I wanted to during the June Singapore Open, although I still managed to qualify for the World Cup. Hopefully, I'll be able to swim to the best of my ability there.
Jake: One of the biggest challenges for me as I trained for the competition is mental preparation. I find that I perform the best when I have trained really hard, because I find I'm less nervous when I'm fully prepared. Another challenge for me is finding the motivation to push myself in every single training session.
(Note from Jake's coach: A tendon strain in Jake's ankle at the end of September meant that he had to take some time off kicking so it was a challenge for Jake to keep swimming with a lot of pull during the 2-week period that followed.)
What are some of your memorable moments - from either during the selection process, lead up events or training for the meet?
Gabriel: My technique has improved a lot over the past few months thanks to the CIS coaches. I've been able to do things in practice that I couldn't do before, which gives me a lot of confidence for the upcoming meets.
(Note from Gabriel's coach: During the meet at UWC in mid-September, Gabriel achieved 3 personal best times including a 53.18 in the 100m freestyle which is a AAA time.)
Jake: One of the most memorable moments for me was when I trained next to Cameron McEvoy during a month-long training block on the Gold Coast (Queensland, Australia). Swimming next to him was really memorable as it gave me an insight into where I aim to be in my swimming career.
Would you like to catch the boys in action and cheer them on? Let's give our talented Husky swimmers all the support they deserve!
Check out the Sports Hub website to purchase tickets for the afternoon finals or to learn more. Gabriel and Jake will be swimming in the following morning heats (and entry is free):
Day 1: Thursday 15 November
100m IND. MEDLEY (Gabriel)

200m BACKSTROKE (Jake)

50m FREESTYLE (Gabriel and Jake)
Day 2: Friday 16 November
50m BACKSTROKE (Jake)

100m FREESTYLE (Gabriel and Jake)
Day 3: Saturday 17 November
50m BUTTERFLY (Gabriel)

100m BACKSTROKE (Jake)

200m FREESTYLE (Gabriel)
Good luck in the pool boys, and Go Huskies!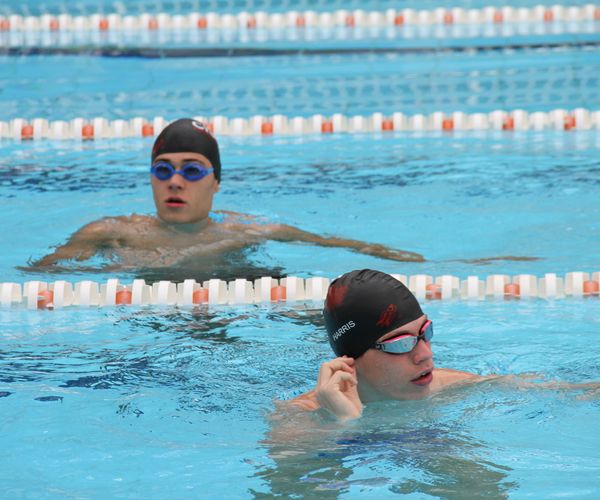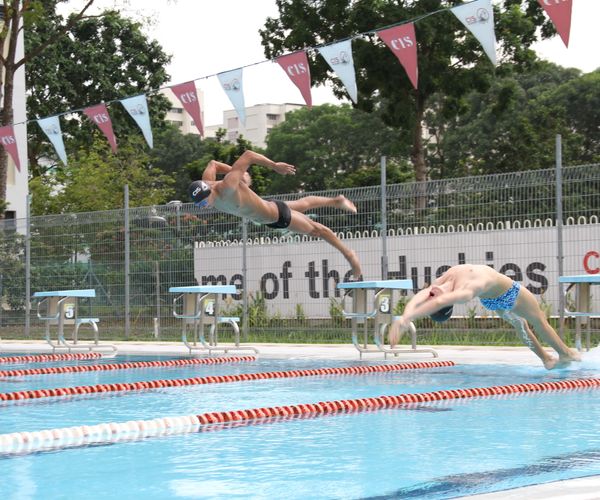 1 of 2