Champion of mind and body
Photograph by
CIS Communications
CIS swim team captain, Gabriel S, overcame a volleyball injury (he broke his ankle in the first game of the season) to grab a gold medal in the Athletic Conference of Singapore International Schools (ACSIS) swimming season 1 competition. We talk to him about his rocky road to victory, and his love of both sports and teams.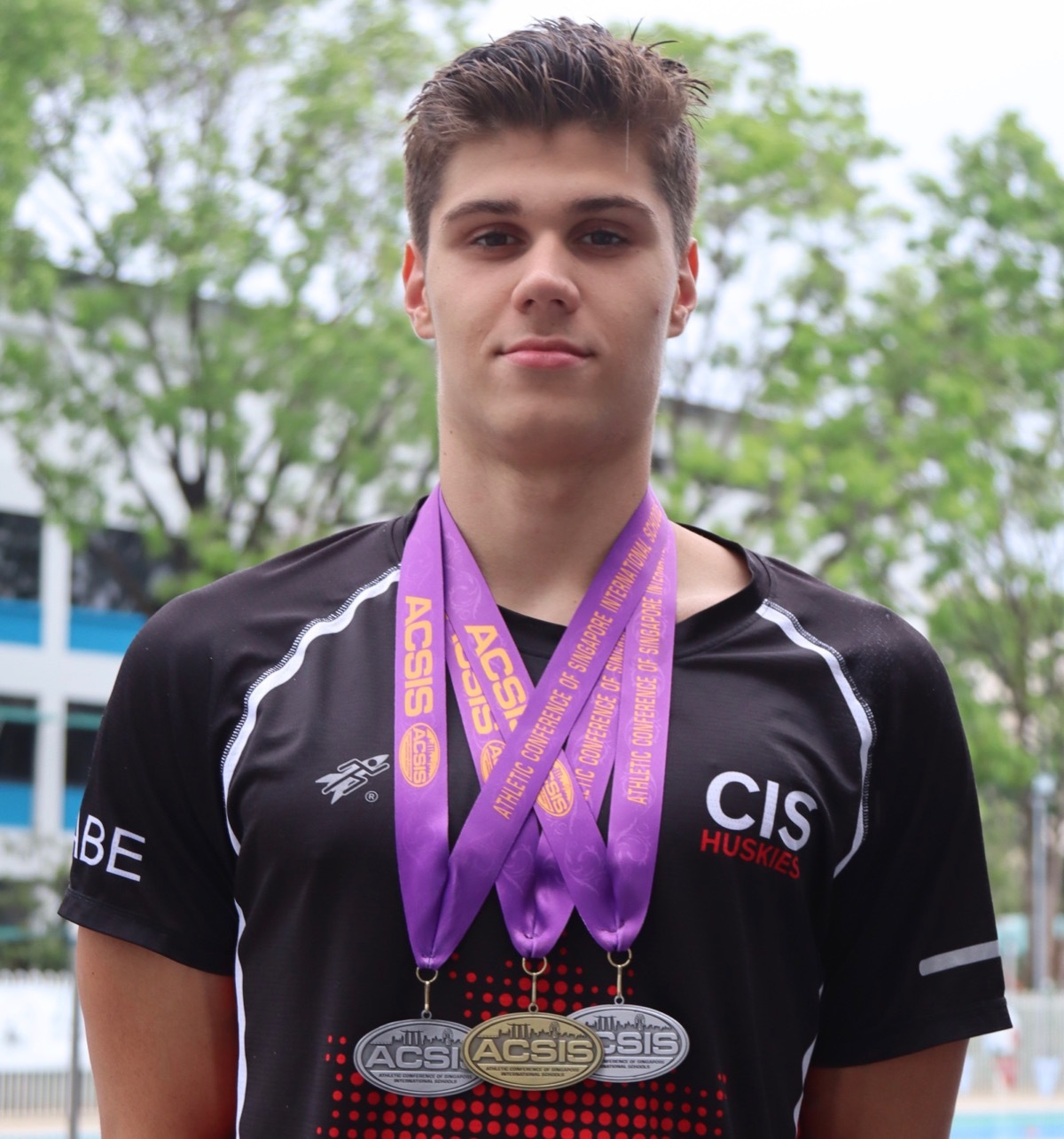 What motivated you to continue after being injured?
What prompted me to join the swim meet was the fact that I would represent CIS at an ACSIS competition for the last time - as I am graduating next year. Additionally, as an integral team member within the Huskies swim team, I knew I needed to persevere in order to support my teammates. 
You spent only one month in a cast. How did you prepare for the competition?
I removed my cast at the beginning of October despite a medical recommendation to continue my recovery for a little longer. However, I knew ACSIS was only a month away. After some deliberation of the consequences of the situation and my actions, I decided to go against the recommendation and began training as soon as the cast came off. It's important to note that I could barely walk at the time. I did, however, maintain the recommendation that I was not supposed to kick at all as it could worsen the injury, and so I tried my best not to move my legs. For the last two weeks leading up to ACSIS, I started to kick in training more as I wanted to be better prepared for the meet. It was very painful, but I was motivated to push through the pain as I was determined to show up for my teammates. 
My coach, Helen Sweeney was very supportive and I am so grateful to her. She constantly reminded me that I should not put so much pressure on myself because I had done everything that I could. This improved my overall attitude of the situation and made me feel more confident.
A note from coach!
"We did a lot of adaptation to the training set as originally the goal for this season was for Gabriel to improve his kicking. He had to drop the breaststroke event he originally chose and he needed to modify most of the workouts. More than 70% of the 25,000m per week he averaged in the lead up to the ACSIS competition was pulling.
Gabriel is a very committed swimmer whose fitness, adherence to a dryland/stretching routine and athleticism had a big impact on the speed of his recovery.  As the team captain of the Huskies swims team this season he did an outstanding job of supporting and leading his ACSIS teammates in both training and at the competition".
A good mindset is what counts
I believe the most important lesson that I took away from this experience was that the mind has more power than we think it does, and even though you may not be the most physically trained person competing, having a good mindset can compensate and overcome physical challenges.
Just focus on what you can control and always remind yourself of your goal.  And if you can't control it, don't worry about it.