2019 UN logo design winners
Photograph by
CIS Communications
Lakeside secondary winner: Chaehee S, grade 7, Lakeside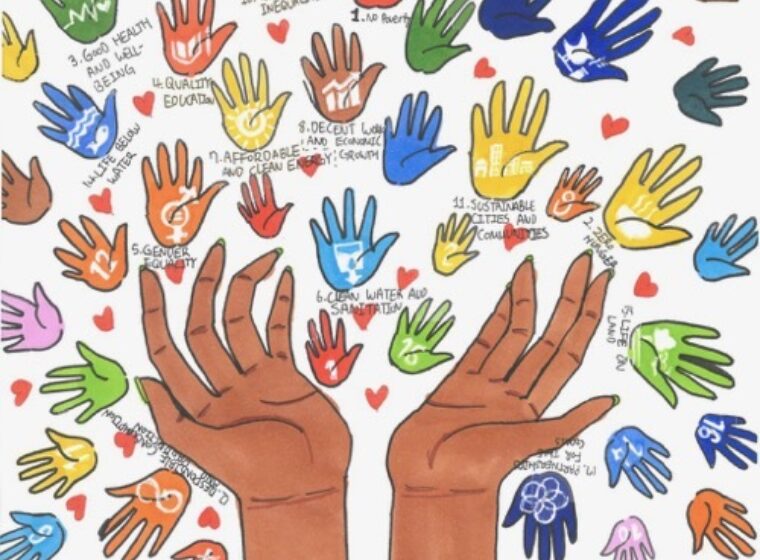 How do you feel about winning the competition? 
I had joined the competition last year but I didn't win so I'm excited to have won this year! It was unexpected so I'm really proud of myself, and so are my family and friends. I'm thrilled to be doing this interview too! 
Tell us about your design. What was your inspiration?
At first, I wanted to include flags in my design but I realised that it wasn't a good idea for a few reasons:
I couldn't decide what flags to put into my design and I thought that it'd be unfair if I only included some flags but not others. 

Some flags are hard to draw by hand. For example, the flags representing Mexico, USA, Belarus and Bhutan have very challenging designs.

My mother told me that designs with flags are very common and encouraged me to think of alternative designs. 
To get some inspiration, I searched my Google Drive and came across a worksheet I did on global goals last year. These global goals were set by world leaders to achieve a better world by 2030 and it's important for every country to help and communicate with one another. In my mind, that fitted in nicely with the competition theme "Generosity unites" so I decided to use that as the basis for my design.  
Did you run into any challenges along the way and how did you overcome them?
Although it was easier to incorporate the global goals, it was still challenging to draw so many hands. In the end, I decided to redraw it digitally instead of by hand. I worked very hard at home to finish drawing all the hands. 
Is there anyone you'd like to thank? 
I'm really thankful to my mom, who gave me the idea of using "global goals" in my logo design. She also helped me decide on the colours to use for the hands. I'll like to say thanks to my friends too, because they told me and celebrated my win even before I knew about it!
Lakeside primary winner: Hosoo L, grade 5 (Lakeside)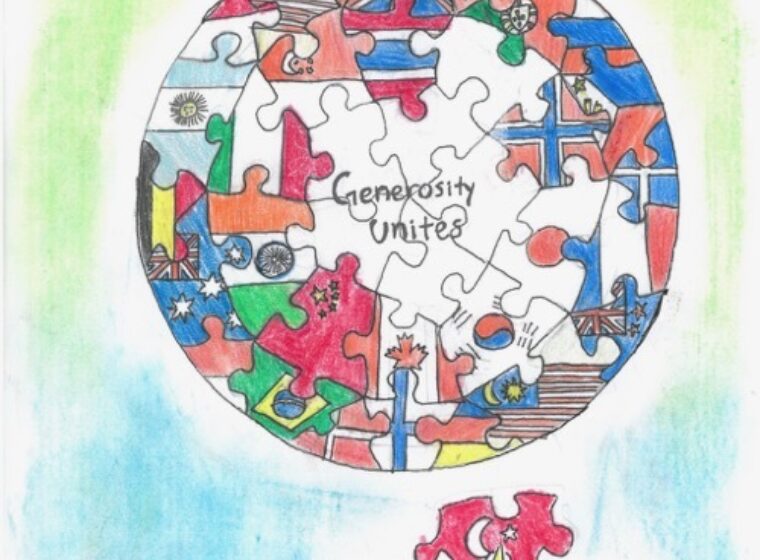 Is this your first time winning the UN week logo design competition? How do you feel about it?
I'm very happy because it's the first time I won this competition. I've been participating since 2017 and my previous artworks from the past two years are hung on my wall at home. 
Tell us more about your design. Why did you design the globe like a jigsaw puzzle?
When I saw the competition theme ("Generosity unites"), I immediately thought of a jigsaw puzzle where all the pieces fit nicely together in a "united" piece. As for "generosity", I tried to represent it with a dove carrying a jigsaw piece to complete the globe. 
Why a dove?
I chose to draw a dove because it's a bird that symbolises peace, which I hope could set people at ease and remind them of their homes. I think that the dove symbol is a representation of "generosity", and encourages us to be helpful and considerate to others so we can stand together in unity. 
Were there any challenges and how did you solve them?
I faced several challenges while I was trying to come up with an idea for the logo. I had initially intended to draw people or a hand matching the last piece of a jigsaw puzzle, but I soon realised that it would be too similar to last year's "Hand in hand" theme. 
I also tried other designs like a person holding a jigsaw puzzle globe with two hands. The globe would have a symbol of peace, a light bulb to represent "idea" and a heart to represent "love". But in the end I decided to go with the dove idea. 
Is there anyone you'd like to thank?
I would like to thank my parents who encouraged me to continue with my project even though I felt like giving up at times. 
Emilija Stojanovski (Lakeside UN week organising committee): Chaehee and Hosoo's artwork were chosen because they were most aligned with our theme "Generosity Unites". The committee found their artwork aesthetically pleasing as well! 
TK winner: Allyssa T, grade 4-4B (TK)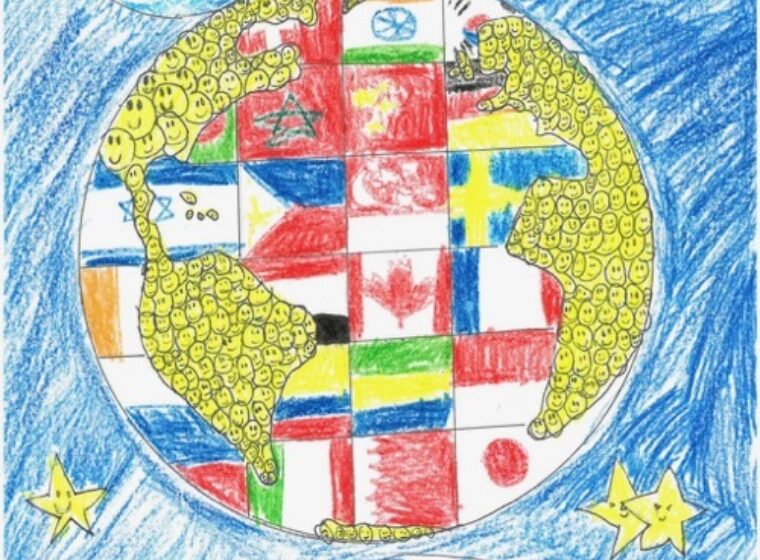 Is this your first time winning the UN week logo competition? Yes, this is the first time I've won the competition. I was really happy that I won!
Tell us about your design. Why are there two planets hugging each other in the background? I'm not very good at drawing people so when I saw the competition theme "Smiles around the world", I thought that it would be nice to create a design where everything from our world to the planets and stars in outer space is smiling. 
Did you run into any challenges while doing the design? It took quite a while to draw my design but it was all worth it in the end!
Is there anyone you'd like to thank? I would like to thank my mom because she bought me new coloring stuff and let me stay up late to finish my artwork.
Patricia Pope (TK UN week organising committee): "We love Allyssa's design because it was a creative representation of the theme "Smiles Around The World". She also included many cute and attractive smiling faces so it gives anyone who saw it a sense of warmth and happiness.